Ariana Grande has made it VERY clear that she doesn't give AF what anyone thinks about her love life. After coming clean about her toxic relationship with ex-boyfriend Mac Miller and his struggles with substance abuse that contributed to their eventual split, Grande has made no apologies regarding her post-breakup behavior. Instead of playing it safe and laying low, Grande showed the world that she's a grown-ass woman by quickly flaunting her new romance with "SNL" funnyman Pete Davidson all over social media.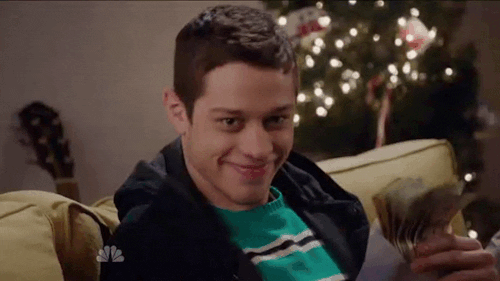 Good for her. If her relationship with Miller was truly toxic (and we have no reason to believe that it wasn't), she shouldn't delay finding happiness with a new man just because a faction of her fan base doesn't agree with her decision. Initially skeptical about Davidson's past drug problems clashing with Grande so soon after she slammed Miller's destructive behavior, I've now seen the light in the land of #GranDavidson stans.
Ariana Grande and Pete Davidson are cute together
TBH, Grande seems genuinely happy with her new beau, and the pair can't help but flex their newfound love on the 'Gram.
U TRYNA SLYTHERIN?! Ariana is all of us pic.twitter.com/2EgL4SBEz9

— SaraB.Davis (@Evi3Zamora) May 30, 2018
Recently, Grande hopped onto Instagram once more to share their first social media smooch with her 120 million followers.
"i thought u into my life 💭 woah ! look at my mind," wrote Grande in the post's caption.
https://instagram.com/p/BjdEcCbn_T3/?utm_source=ig_embed
As hesitant as I was to chalk this pairing up to anything other than a rebound (because let's be honest, Grande could snag a MUCH bigger celebrity than Davidson), the duo seems genuinely happy and haters should quit slamming their budding relationship.
Pete Davidson could get it but like Ariana it's too cute and talented for a white boy that looks like a local sick skater that hasn't slept in 3 days

— ᴶᵁᴵᶜᴱ (@metaIqueersolid) May 22, 2018
Fingers crossed that these two go the distance, because honestly, they're one of the few celebrity couples that don't make me cringe (looking at you, Benji Madden and Cameron Diaz).