Ariana Grande is definitely here for putting both her professional and personal lives on full display. Deftly intertwining her intimate experiences with her album releases, this new, lower-pony era of Grande's career is all about skimming below the surface of generic Top 40 pop music.
i am so grateful for what @ArianaGrande does for us,
she is always open to us and shares everything with her fans.

we have the best idol <3

— Gia Kirin (@Siligiaa) January 15, 2014
"I've always just been like a shiny, singing, 5-6-7- 8, sexy-dance … sexy thing. But now it's like, 'OK … issa bop — but issa message. Issa bop but also has chunks of my soul in it,'" Grande revealed during an interview with FADER. "'Here you go. Also, I cried 10 hundred times in the session writing it for you. Here is my bleeding heart, and here is a trap beat behind it.' There's definitely some crying-on-the-dance-floor stuff on this one."
In the sprint leading up to the drop of her much-anticipated album "Sweetener," Grande spread some serious hype around the #AriaNation by releasing the track list in its entirety.
Ariana Grande has unveiled the tracklist for her highly anticipated fourth studio album — "Sweetener."

The album is set for an August 17th release. pic.twitter.com/lOYqUe5hhS

— Pop Crave (@PopCrave) July 19, 2018
Ariana Grande released the track list for "Sweetener"
Unsurprisingly, and because the pop star can't seem to do ANYTHING without involving her boyfriend-turned-fiance Pete Davidson, one of the track's titles now exists as an eternal ode to her man. While I definitely understand the appeal of Davidson's alleged BDE, I really can't swallow the fact that Grande so readily immortalized him in song. Buying a $16 million NYC apartment together is one thing, but forever cementing him as part of her immovable discography is another situation entirely.
Ariana grande has a song named Pete. Fuck.

— sully (@wowzajosh) July 20, 2018
After fans slipped into the pop star's Instagram comments to shade her decision to dedicate a portion of the track list to her new flame, Grande was ready with a fiery retort.
"He's my fiance. This is my album," Grande replied. "I'm an honest and emotional artist and human being and if my openness in my work isn't for you, that's OK; I won't be offended. Still wishing y'all all the love in the world."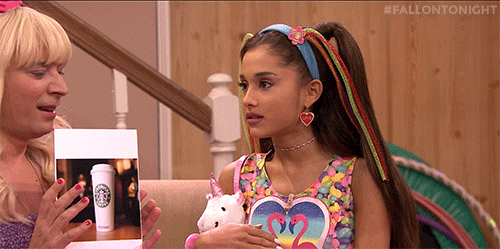 OK, sis. Do what you want … but I wish you all the best when you're begging Republic Records to scrub "Pete" from your latest release.