When Pete Davidson isn't obsessively sexualizing Ariana Grande and flaunting their physical connection all over social media, he keeps busy by making cheap jokes about terrorist attacks. Considering that the "Saturday Night Live" star has intimate knowledge of just how damaging violence can be to the families affected by it, the fact that he freely mocked the tragic event is not OK.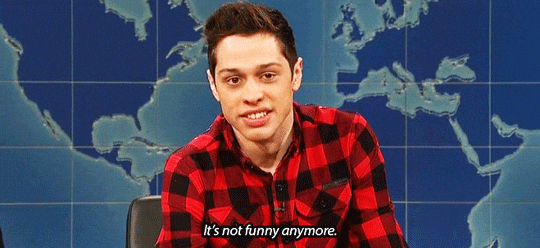 During a recent stand-up routine at the Laugh Factory in Los Angeles, Davidson unfortunately attempted to make light of the Manchester Arena bombing that occurred during one of Grande's concerts, claiming that his newly minted fiancee used the tragedy to further her career.
Pete is garbage. Fuck all that "comedy is how he deals with pain" FIRST OF ALL, who the fuck jokes about a terrorist attack? And WHO THE FUCK jokes about Ariana using it to boost her career?

— . (@lucifergrande) July 3, 2018
"Britney Spears didn't have a terrorist attack at her concert," joked Davidson, suggesting that Grande only realized the extent of her fame after the event.
Now, teetering between a half-assed apology for her man and a soft condemnation of his words, Grande has faced the public backlash alone.
so pete is really hiding out in an apartment we all know ariana bought and waiting for this to blow over while ariana is apologizing for his disgusting joke… pic.twitter.com/TK1X0m0uNG

— sweetener (@bearianaalright) July 5, 2018
Ariana Grande responds to Pete Davidson's Manchester bombing joke
Hopping onto Twitter, Grande sent her #Arianators into shock by actually defending her man and his tone-deaf remarks.
"this has been v tough & conflicting on my heart. he uses comedy to help ppl feel better ab how f-ed up things in this world are," said Grande, responding to a fan condemning her decision to stand by her partner. "we all deal w trauma differently. I of course didn't find it funny. it was months ago & his intention wasn't/ is never malicious but it was unfortunate."
i hear and respect you all always.

— Ariana Grande (@ArianaGrande) July 5, 2018
Really, sis? You can openly slam, block, and write off stans who speak out about the bombing in the "wrong" way but when your man does it, it's just his way of dealing with trauma?
I love Ariana but what I'm not about to do is kiss her ass, she literally defended Pete. I don't understand how a joke deals with trauma & I'm so sorry for the Manchester families. If it was any other person that made the joke, she'd snap @ them & block them & that's the tea

— kayla (@touchitbieberss) July 6, 2018
With each passing day, Grande and Davidson's #GrandSon whirlwind romance becomes more and more toxic. Just because the "No Tears Left to Cry" singer is madly in love with the late-night funnyman's BDE doesn't mean that he has a free pass to insult the thousands still dealing with lasting pain from the attack years later.
Also, Davidson should be the one apologizing and explaining the motivation behind his insensitive remarks, not his soon-to-be bride. Sorry Grande stans, but your idol is hanging on to her problematic beau with an intensity that is undoubtedly unhealthy for both parties.