OK, Ariana Grande and Pete Davidson, you're in love. We get it.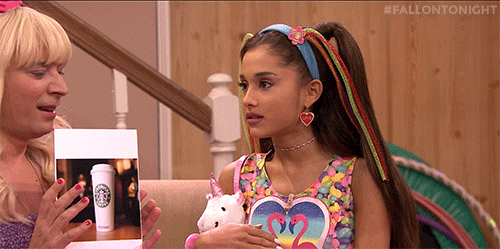 From sporting matching tattoos to flaunting some seriously cringeworthy flirtation on Instagram before getting engaged with the help of a $93,000 rock, the pop star and the "Saturday Night Live" comedian have gone all in with their next-level love. At first, I was on board with the #Arianators supporting their girl through her breakup with washed-up rapper Mac Miller and rejoicing in her new romance, but I quickly became unable to stomach the high school vibe dominating the relationship.
ariana grande and pete davidson became that annoying high school pda couple reaaaal quick

— erin (@taltheli) June 21, 2018
While it's great that the two lovebirds are happy in their new relationship, there are limits to just how hard you can flex your romance before people start to think you've lost your marbles. However, the "No Tears Left to Cry" singer recently dropped a bombshell tweet that sheds a bit more light on why she's ready to settle down with Davidson so quickly.
Ariana Grande reveals just how big Pete Davidson is
Apparently, for Grande, art really does imitate life. When she linked up with longtime collaborator Nicki Minaj for the 2016 banger "Side to Side," the pop star waxed lyrical about how she's willing to make deals with the devil to secure some good D and hop onto that d— bicycle.
A highlight of the Ariana Grande/Pete Davidson saga is having to explain the lyric "ride dick bicycle" to my horrified parents

— Ej Dickson (@ejdickson) June 12, 2018
Hopping onto Twitter to respond to a fan question about how long an interlude titled "Pete" will be on her soon-to-be-released album "Sweetener," Grande let slip that her man was an impressive 10 inches long. Unsurprisingly, Grande quickly deleted the remark soon after her tweet lit up the Twitterverse.
"like 10 inches? … oh f— … i mean … like a lil over a minute," wrote the 24-year-old singer-songwriter.
Lmao Ms. Ariana Grande tweeted out saying her Fiancé, Pete Davidson, has a 10 inch dick.

I'm logging off pic.twitter.com/ZPjKyP6sps

— Ladi (@ladynelloveras) June 24, 2018
OK, back it up. While I'm all for enjoying the satisfaction of a consensual, fulfilling physical relationship, there's no reason why a celebrity with a (mostly) teenage fan base should be spouting off about her fiance's genitals COMPLETELY unprovoked. Singing ambiguous lyrics that she most likely didn't even pen herself is one thing, but straight-up telling fans about Davidson's size is completely unnecessary.
miss ariana grande really just revealed on twitter dot com that pete has a 10 inch dick huh pic.twitter.com/EFLnxPBies

— aya (@blvckswans) June 22, 2018
BRB, counting down the minutes until the #GrandSon romance falls apart and Grande makes millions off her breakup album.