Danielle Bregoli AKA Bhad Bhabie is way too busy flexin' on her haters to worry about the long list of potential baes looking to be her Valentine this year. Fresh off of the commercial and critical success of the accompanying visual to the remix of her track "Hi Bich" featuring Rich The Kid, MadeinTYO and Asian Doll, the 14-year-old hitmaker isn't pausing her grind for romance anytime soon.
Stopping to chat with TMZ while out and about in an all-red ensemble, Bhad Bhabie opened up about her plans for the upcoming holiday as well as the struggles of finding love within the entertainment industry.
"I have myself," said Bhad Bhabie, totally nonplussed about her single status. When pressed about whether or not she was hoping to be surprised by a "special someone" on Valentine's Day, the "Both of Em" rapper didn't hesitate before responding with an emphatic "Hell no! Boys are whack!"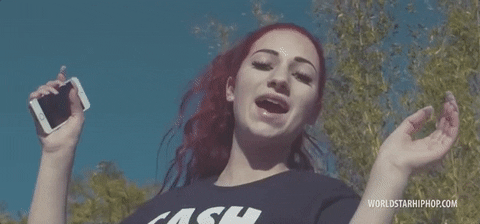 Switching up her single-and-DGAF vibe, the teen sensation then revealed the struggles she's faced in trying to find love in an industry notoriously grueling on young romance, stating that it's "more than hard." "It depends because…you do want someone in the industry for certain reasons and you don't want someone in the industry for certain reasons, so it's hard," she said. "So I guess whoever comes along, comes along."
When the interviewer pointed out that Bhad Bhabie's professional peers would be more understanding of her jet-setting lifestyle, the rapper quickly countered the claim by stating that she wasn't here to compete for time in someone else's jam-packed schedule. "But then that could also be bad because they could also be traveling and not be able to come with you," she added.
Single or not, it looks like Bhad Bhabie is definitely beating her 2017 Valentine's Day which consisted of her exorcism, battling an infected piercing and dancing to a Shawn Mendes song in CVS.
https://www.instagram.com/p/BQfKKeLgI8x/
Watch the interview below to full scoop on the fire femcee's romantic prospects: