Danielle "Bhad Bhabie" Bregoli is here to stay as one of the music industry's most controversial new celebrities–and she doesn't care whether or not you like it, or think she's deserving of her sudden fame and status.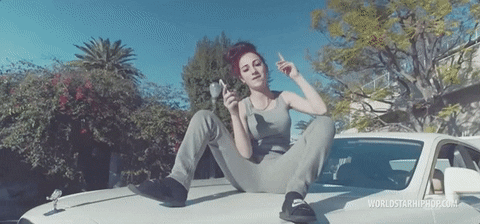 Bursting on to the scene with her iconic "cash me outside" diss aimed at the haters sitting in the audience of "The Dr. Phil Show," Bregoli soon translated her meme-making catchphrase into a budding rap career worth a six-figure deal with Atlantic records. Dropping hit after hit from "These Heaux" to her mega-popular "Hi Bich" remix featuring the stylings of Rich the Kid, Asian Doll and MadeinTYO, Bhad Bhabie is enjoying the fame that accompanies this "new" brand of celebrity–mixing viral superstardom with chart-topping radio play.
🆕 #HiBichRemix MUSIC VIDEO feat. @richthekid @madeintyo @ImAsianDoll LIVE NOW ON #WorldstarHiphop #worldstar WATCH NOW AT➡️ https://t.co/XzYhHVS8W8 pic.twitter.com/jTafQlrdK8

— #TRUSTme (@BhadBhabie) February 1, 2018
Sitting down to chat with POPCRUSH, the 14-year-old rapper opened up about her foul-mouthed come-up and how she deals with both the haters and those she hates on.
When pressed about the evolution of the "Bhad Bhabie" persona following her first controversial television appearance, the teen social media sensation revealed that she's dedicated to shedding her old image.
"I am a completely different person from then," she explained. "I've definitely evolved since then."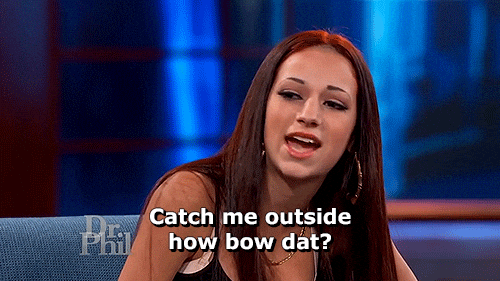 "I'm glad that it happened," said Bhad Bhabie, referring to her reality talkshow start. "I mean, it did something for me but I think it's something that does need to be kinda thought about. Like yes, I'm grateful for it, but I think it's something that like people are holding a little too tight to…As you get older you kind of look back, it could be a week ago or whatever, but when you're younger and as you get older you'll look back at things and be like, You slimy f—, you shut up. Be quiet."
Always eager to dish on her haters, the "Both of Em" rapper then served up some strong words for "fake ass" Kylie Jenner, who according to Bhad Bhabie, is a "shitty person." Responding to the Twitter trolls who flood her page with criticism, the rapper revealed that she works hard to turn their hate into white noise.
"Everyone is always tweeting someone some negative ass shit," she explained. "It's like, 'I want clout, so here you go. I'm going to start a beef with Danielle because I know that she'll say something back. That's really all it is.'"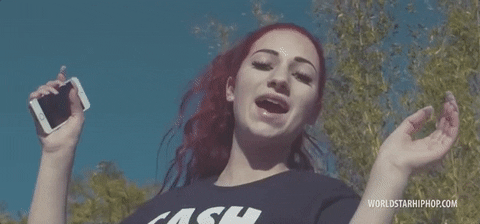 With the teen sensation already flexing such a strong grip on her life in the fast lane, we can't wait to see what she comes up with next.