Hate all you want, but Danielle Bregoli, aka Bhad Bhabie, is at the absolute top of the teen rap game. In addition to lighting up stops on the #BhannedInTheUSA tour alongside "Hi Bich (Remix)" collaborator Asian Doll, Bregoli recently dropped the new visual for her single "Gucci Flip Flops" featuring Lil Yachty. It's a far cry from her appearance in Kodak Black's "Everything 1K" music video from 2017. Bregoli pressed pause on flexing fat stacks in foreign cars to prove she's the most self-aware rapper in the game.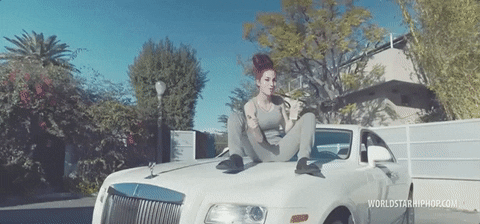 The video starts with a black-and-white 1950s "Leave It to Beaver" vibe. Bregoli and her fake family of upper-middle-class Bhaddies sit parked in front of a retro television. With curled hair and pearls around her neck, Bregoli looks wildly different without her signature tight jeans, black tank, and claw-length nails. Soon, Bhad Bhabie lights up the TV with the track's opening bars. And it visibly offends the picture-perfect family.
Bregoli's slick lyrics shake each member of the nuclear family to their core. She incites a haze of face tattoos and grind sessions. And then there's a surprisingly explicit conversation between Bregoli and comedian David Spade, who makes a cameo appearance as the neighborhood milk man.
At first, putting Spade in the video seems like a cynical way to include a famous face on a limited budget. But Spade's dialogue is necessary for the "Both of Em" rapper to get her point across. Calling Bregoli "adorable" after she dresses him down is a clever nod to the split public opinion about the meme rapper.
Bregoli included Spade a year after he publicly put her on blast for milking her "five minutes of fame." But using her still-rising status to secure a veteran comedian nearly 40 years her senior wasn't just a money move; it was a power move. With Spade's presence in the video as a placeholder for all the haters who put an early expiration date on the "Cash Me Outside" girl's viral fame, Bregoli's showing us she's the one calling the shots.
https://www.instagram.com/p/BTzinFLBVoH/
Defiant teen or terrible influence?
There's a vocal group of critics who demonize Bregoli as a terrible influence on her young fan base. But fans see her lyrics and Instagram rants as headstrong, a teen bucking society's expectations of someone her age.
The "Gucci Flip Flops" video is a visual representation of her "let your kids listen to me" line in the "Hi Bich" remix. And Bregoli proves she's much more self-aware than critics give her credit for. She made waves gunning for Nicki Minaj in the press, saying Minaj "doesn't say stuff and just has attitude." So her choice to stay away from rapping about the old tropes of money, sex and luxury cars is a smart tactic.
Watch the full video for "Gucci Flip Flops" below: