Serving up some serious "Bitch Better Have My Money" vibes, Danielle Bregoli AKA Bhad Bhabie's mom is suing DJ Suede for her cut of his "Cash Me Outside" remix. Back before the "Hi Bich" rapper was a serious force to be reckoned with in the music industry, DJ Suede AKA "The Remix God" sought permission from Bregoli and her mother to use her voice and infamous catchphrase in his "Cash Me Outside Trap Remix."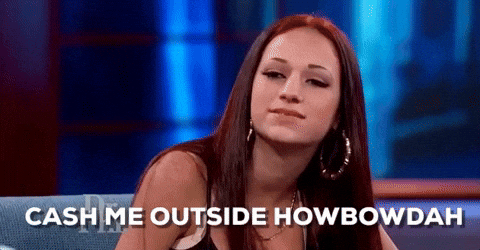 Charting at No. 88 on the Billboard Hot 100, DJ Suede's remix both solidified Bregoli's viral celebrity status and gifted Internet culture with countless dance number videos.
https://www.instagram.com/p/BQoOfoRDtGK/?hl=en&tagged=cashmeoutsideremix
Im at my mums workplace somone is playing a Cash me outside how bo da remix

— Dwayne Van Heerden (@AnAmateurNinja) December 1, 2017
Bumpin' on speakers everywhere from the club to the streets, there's no denying that Bregoli's first feature resulted in a certified bop.
Yo they really played the Cash me Outside Trap remix in the club last night.

— WiLL (@Unfollow_Will) November 26, 2017
As reported by TMZ, Bhad Bhabie's mom Barbara Bregoli filed documents claiming that Suede and his manager exploited the newly-minted rapper and her meme-friendly phrase. Allegedly, Bhad Bhabie was supposed to receive half of all profits gained from the song's release as part of the deal signed with the DJ but has to yet to receive any payment from the musician.
According to Bregoli and her team, Suede has amassed over $250,000 from the track and is holding the rapper's portion hostage because he was unable to become her tour DJ.
DJ Suede has yet to publicly respond to the claims.