Caitlyn Jenner should know better than anyone that you don't come for a single member of the KarJenner clan without inciting the fury of the rest of the group. After a rocky separation and divorce from ex-wife Kris Jenner, the 68-year-old former Olympian weakened her relationships with her daughters, her stepchildren, and her former partner by blasting the family in her first tell-all book.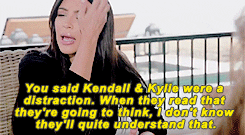 In response, Jenner attempted to portray herself as the wronged party after splitting from her famous family and spewing outright lies to the public. "They don't want me in their lives, they bashed me pretty badly. It's devastating when your kids do that. It really hurt," said Jenner during the promotional tour for her revealing memoir, "The Secrets of My Life."
Caitlyn Jenner shaded the KarJenner women
Proving she's still shady AF, Jenner hopped onto Instagram on Mother's Day to issue short-lived praise for her former stepdaughters and her ex-wife, with Khloe Kardashian notably absent from the post altogether.
"So blessed to have so many amazing moms in my life," Jenner captioned the soon-to-be-deleted images of her former wife and her stepdaughter Kim Kardashian.
On top of deciding that the posts honoring her estranged family members weren't worth keeping up, Jenner slammed Khloe Kardashian the hardest by never including her in the initial tribute. To rub salt into the gaping wound she'd created, Jenner then uploaded never-before-seen images of her daughter Kylie Jenner holding newborn Stormi Webster.
https://twitter.com/KylieJennerBR/status/995748648272252928?ref_src=twsrc%5Etfw&ref_url=http%3A%2F%2Fwww.clevver.com%2Fcaitlyn-jenner-kardashians-mothers-day-message%2F&tfw_creator=allydaluisio
Screenshots are forever, Jenner. If you're going to be shady on social media with accounts that boast millions of followers, know that a wave of backlash is not far behind each and every upload. And remember, when it comes to the Kardashians, blood is ALWAYS thicker than water.