Forget the red bottoms, Cardi B busted out the red gloves this Halloween.
The "Bodak Yellow" rapstress can't seem to stay out of the spotlight following her whirlwind, record-breaking month on the Top 100 and recent engagement to "Bad and Boujee" rapper Offset. Channeling some serious I-got-ten-bands-and-I-want-my-fur vibes, Cardi debuted her sultry Cruella De Vil ensemble at the BACARDI Presents: Dress To Be Free Party held at the House of Yes in NYC. The rapper completely #Slayed the look, from the two-toned hair and busty corset (we're guessing this wasn't Disney approved) down to the tip of her gigantic fur coat.
On her way to the event, the "Cheap Ass Weave" rapper shared a video of herself in full costume with her 12 million IG followers.
"So I'm on my way to the Dress To Be Free Bacardi party, and I hope they got my damn Popeyes," she said in a poorly crafted, hybrid British-NY accent. "I don't want to be around all those poor people, but I will be performing. My accent sucks, doesn't it? Yes it does. I'm on my way."
To round out the look, the South-Bronx femcee even posed with an IRL Dalmatian on the spooky, cobwebbed set at #DressToBeFree.
https://www.instagram.com/p/Ba5epi7hWnM/?hl=en&taken-by=iamcardib
(Note: No Pongos were harmed for this pic.)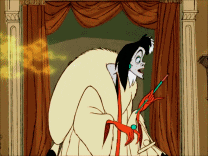 In another glam snap, Cardi B put her haters on blast and silenced those who claim she didn't grind enough for her spot at the top.
"People only see the glam or the highlights, they refuse to see the work and pain I put on to get to where I'm at," she wrote. "I deserve this! I wake up everyday and remind myself that I DESERVE THIS! I won't let nobody make me feel like I don't!"
There's no question why the rapper is this Halloween's ultimate "Bruella" (she's a blood, so you can keep the "C")- it takes a bad bitch to play a bad bitch, and Cardi B can definitely rock the fur.