At first glance, the early 2017 hookup between Migos rapper Offset and "Bodak Yellow" hitmaker Cardi B seemed like a match made in hip-hop heaven. With Offset flexing his ice, impressive record sales, and status as one of the three demigods of the ATL trap scene and Cardi B quickly climbing the industry ranks, the #Coffset pairing came through drippin' with potential.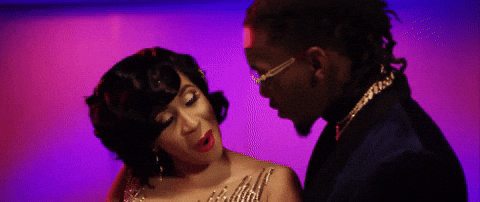 However, their once-untouchable romance came under fire in late 2017 after multiple videos of Offset creepin' on Bardi on the low surfaced on Twitter.
Another video of #offsetcheating are we surprised or…?? pic.twitter.com/jPA2FF1ivg

— Rihyoncè (@YourGoodJudy) January 5, 2018
While the tired narrative of an ultra-famous A-lister stepping outside of their relationship for some side action is far from surprising, I, along with many members of the #BardiGang, couldn't believe that the Bronx-bred rapper promised to stand by her man. With so many of Cardi B's lyrics dedicated to explicitly describing how quickly she'd drop an unfaithful partner and punish the offense, I fully expected the rapper to dump him and pen a scathing diss track about his betrayal.
Brushing off detractors by stating, "I want to work out my s— with my man, and I don't got to explain why," Bardi branded herself as a hypocrite for publicly tarnishing her hard-ass HBIC image long before the rest of the world knew WHY she put her neck on the line for her unfaithful partner.
The worst part of Cardi B and offset is that she's being a hypocrite while staying with a cheater. It's basically show casing how weak she is.

Shes telling every women that looks up to her, that it's OK to be cheated on by a man.

Lovely.

— Shébry (@LifeInCaliforna) March 31, 2018
Cardi B and Offset secretly wed last year
Blowing the lid off an incredibly well-kept secret, TMZ uploaded scans of Cardi B and Offset's marriage certificate from Fulton County, Georgia, dated September 20, 2017.
Marriage certificate for cardi b and offset obtained by tmz!#CardiB #offset #culturecouture #culturist pic.twitter.com/WH66j8PDXH

— The Culture (@thecultureisus) June 25, 2018
In response to the reveal, Queen Bardi hopped onto Twitter to set the record straight about her status as a married woman discovered by people "doing the most" to unearth intimate details about her life.
"There are so many moments that I share with the world and then there are moments that I want to keep for myself! Getting married was one of those moments!" wrote the "Be Careful" rapper. "Our relationship was so new breaking up and making up and we had a lot of growing up to do but we was so in love we didn't want to lose each other, was one morning in September we woke up and decided to get married."
This why i name my album "Invasion of privacy" cause people will do the most to be nosey about your life .Welp fuck it . pic.twitter.com/U3uHFOT3qK

— iamcardib (@iamcardib) June 25, 2018
"Well now since you lil nosey f—s know at least ya can stop saying I had a baby out of wedlock," she added.
That Cardi B buckled down as a ride-or-die for her HUSBAND, not her boyfriend and soon-to-be baby daddy, doesn't make her a hypocrite, it proves her loyalty. Cardi B is the Beyonce to Offset's Jay-Z, so don't slam her for turning lemons into #Lemonade.