Eager to let her haters know that she's much more than a one-hit-wonder, the bloody shoe-wearing femcee behind the "Bodak Yellow" craze rang in 2018 by smashing yet another record. With nothing but great things to say about the rapper following their recent collaboration, Bruno Mars congratulated Cardi B on becoming the first woman in Billboard history to have three songs chart in the Top 10 for three weeks in a row.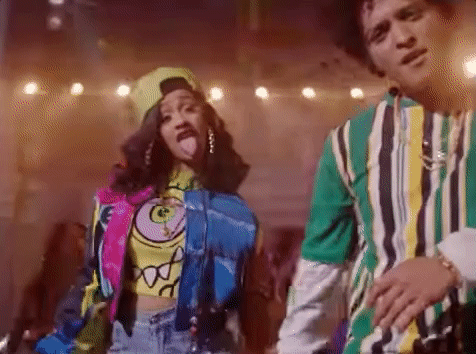 Fresh off of the success of followup hits like "Bartier Cardi" and "Motorsport," Cardi B linked up with "Uptown Funk" singer-songwriter Bruno Mars for a remix of a track off of his third studio album "24K Magic." Lending her talent behind the mic to "Finesse," Cardi B's fire bars and on-point delivery catapulted the track to No. 3 on the Billboard Top 10.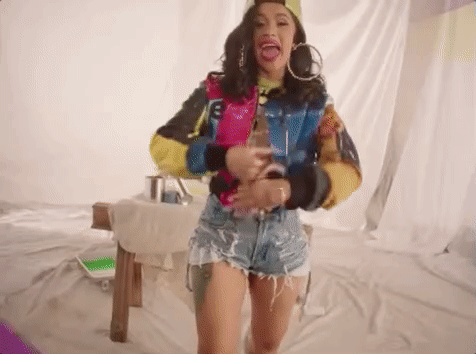 Along with the instant success of "Finesse," Cardi B has managed to keep three songs stacked in the Top 10 despite the fact that their rotation has changed. Currently, the South Bronx rapper boasts features on G-Eazy's "No Limit" and Migos' "Motorsport" alongside her smash-hit debut single "Bodak Yellow." With "Bartier Cardi" sitting comfortably in the Top 20, the rapper could very easily snag four Top 10 slots if the release of the track's much-anticipated music video brings in some fresh airplay.
Having previously referred to Cardi B as a "true star," Mars took to Instagram to congratulate the rapper on her impressive accomplishment.
"When you got one song in the top 10 but Cardi B got three," he wrote. "LETS GO @iamcardib !!! Thank you to everyone drippin in finesse with us. Now let's take this muh f—a to the TOP! 💥💥 WE OUT HERE!"
https://www.instagram.com/p/BeBndIdhTj9/
Will Cardi B finesse her way into nabbing a fourth Top 10 hit? Based on her track record–we're guessing that YES, she will.