Whether it's the third-trimester pregnancy hormones or a side effect of spending too much time in the spotlight, hip-hop newcomer Cardi B isn't as tough IRL as she swears she is on wax.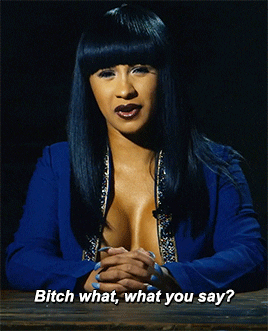 Without question, Cardi B is consistently quick to hop onto social media to let the #BardiGang know that she's always down to silence haters who have the audacity to come for the record-breaking femcee. Building a reputation as the ultimate bad bitch of hip-hop, Cardi B was a seemingly untouchable pillar of strength and self-assuredness that couldn't be challenged by toxic stans or online trolls.
However, Bardi's hard image as the HBIC of the rap scene took a serious hit when longtime foe Azealia Banks reignited their feud during a recent appearance on the syndicated radio show "The Breakfast Club."
Cardi B deleted her Instagram account
Months after labeling the "Bodak Yellow" rapper as a "poor man's Nicki Minaj," Banks reached back into her bag of insults and came HARD for the Bronx-bred femcee. Backing up her claims that Bardi is an "illiterate, untalented rat," Banks added that the "Bartier Cardi" rapper is little more than an unintelligent caricature perpetuating harmful stereotypes.
It's really cringeworthy for me to watch her interviews. I really think Atlantic told her to beef up the crazy noises/slang and now she is in a position where no one is going to care if she intelligent Bc ppl are just going to the "okurrr" shit from her.

— Barry Gordy (@branfire) May 11, 2018
"There was just this really, really, really intelligent conversation going on nationally and then everything just kind of changed and then it was like Cardi B. I'm just talking about this caricature of a black woman that black women themselves would never be able to get away with. If Nicki Minaj spelled like that, we would be ragging on her all day," Banks said.
Despite the fact that I instantly wanted to defend Bardi against Azealia's accusations, I'll freely admit the "Be Careful" rapper's response was incredibly underwhelming.
I definitely side with Bardi and think that Banks was in the wrong to come for her so hard (again), but her emotional, poorly worded response did little to refute her foe's claims.
https://www.instagram.com/p/Bip1EY2FbPP/?utm_source=ig_embed
READ. HER. CARDI pic.twitter.com/AHWXL2vRLh

— tony (@gawdcompIexx) May 12, 2018
To make matters worse, Bardi then shocked the world by completely deleting her Instagram account and locking her Twitter feed. As someone who praised Cardi B's authenticity on wax, in interviews, and on her Instagram feed, her refusal to stand up to such a damning public attack draws attention to the cracks in Cardi B as a brand, not just as a rapper.
While I'm still a member of the #BardiGang, I no longer believe she's a shining ray of realness in a sea of manufactured celebrities.