Despite the fact that rap newcomer Cardi B is a certified Lady Gaga fan and card-carrying Little Monster, the "Bodak Yellow" hitmaker couldn't refrain from blowing up social media with unadulterated joy after meeting iconic pop legend Madonna.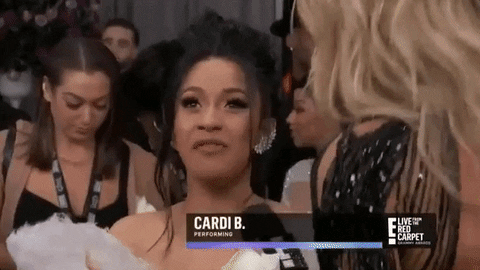 After performing at Madonna's 2018 Oscars after party, the rapper was completely unable to contain her excitement and took to Instagram to share details of the encounter with her nearly 20 million followers.
"I met my real life IDOL @madonna. I can't even believe i performed at her event and it was the most meaningful performance ever," Cardi B captioned an image of herself, Madonna, Offset, and Quavo striking a dramatic pose. "I grew up with my mom listening to Madonna for hours. I performed Material Girl freshman year in High school, listen to her on all my photo shoots to have super confidence and always mentioned her in my interviews .The best part about it is she was everything i thought she would be a Liberal Kick ass feminist bitch. I'm soo happy."
https://www.instagram.com/p/Bf9rRNkBfgn/?hl=en&taken-by=iamcardib
Luckily for Cardi B, Madonna proved to be equally enamored with the record-breaking rapper and posted her own snapshot of the meeting on Twitter.
"Love this girl so much!! Thank you @iamcardib for shining your light at the party last night!" she wrote.
Love this girl so much!! ♥️♥️♥️ Thank you @iamcardib for shining your light at the party last night! 🔥🔥🔥 #oscars 2018 thank you @OffsetYRN @QuavoStuntin @Moschino 🎉🌈🙏🏻 @JRart #party #fun #aboutlastnight 🎉💕🔥💕🎉👌🤡💕🎉👌🤡💕 pic.twitter.com/5WLix6M9Pd

— Madonna (@Madonna) March 5, 2018
As if Cardi B, Madonna, and two-thirds of the Migos in one shot wasn't enough, Bardi's stylist Kollin Carter posted his own behind-the-scenes vantage point of the exclusive event, featuring a cameo from the queen of reality television herself, Kim Kardashian.
With such obvious chemistry between the two stars, we're seriously crossing our fingers and toes for a Madonna x Cardi B collab that somehow manages to put "Finesse" to shame.