While Cardi B's beef with Nicki Minaj definitely has not reached the level of Remy Ma's "ShETHER," there's no denying that there's some bad blood between the two hottest femcees in the industry. During Bardi's inspiring, lightning-speed come up in 2017, fueled by the popularity of her debut single "Bodak Yellow," fans were quick to paint Minaj as a jealous aggressor intent on stopping her fellow New York rapper's shine.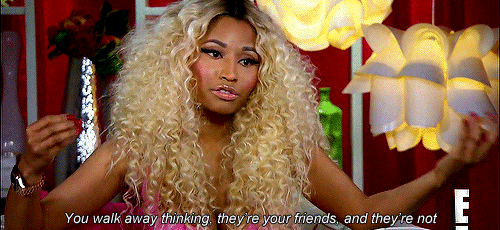 However, the self-proclaimed Queen of Rap isn't one to let trash-talking on her name slide. Formally announcing her return to the spotlight in 2018, Minaj stopped by radio station Beats 1 for a revealing chat with host Zane Lowe and used her airtime to address the alleged mess with Bardi.
Admittedly, I was fully expecting Minaj to get on the mic and squash the narrative that's been brewing since Cardi B became a bona fide celebrity. Not down for the fakery, Minaj instead revealed that she was in fact hurt by Bardi's coldness to her in interviews following the release of their collaborative track "Motorsport."
"I have never seen her show me any genuine love during an interview," she said. "I just see how many girls wish they had been on a song with Nicki Minaj."
Cardi B responded to Nicki Minaj's on-air diss
Nothing happens on Instagram without Cardi B catching wind of it. As expected, when a critic hopped into her comments section to drag her for not showing genuine love after Minaj had been "so nice," Bardi's gloves came off.
"Nice how? Tell me?" wrote Cardi, leading fans to believe that perhaps Minaj WASN'T the victim in their high-profile beef.
https://www.instagram.com/p/BiOJBGBlpHF/?utm_source=ig_embed
While it's clear Minaj isn't lying about Bardi's unusually evasive interview responses regarding the "Barbie Tingz" rapper, perhaps there's more to their feud than meets the eye. However, the desperate pleas from both #TheKingdom and the #Bardigang need to stop.
https://twitter.com/KingB73465719/status/991201091160346626
The two femcees are in DIRECT competition with each other. Regardless of who threw the first shot, Bardi and Minaj are NEVER going to be BFFs rocking their Fashion Nova outfits side by side.