Cardi B has never been one to hold her tongue.
The outspoken stripper-turned-reality star-turned chart-topping femcee has been known to drop off the cuff rants on everything from body shaming to her own come-up. Before she was a record-breaking recording artist, Cardi's meteoric rise to the top of the rap game was bolstered by her social media following and viral videos. With catchphrases like "a hoe never gets cold" and "if a girl has beef with me, she's going to have beef with me FOREVER," Cardi B cemented herself in the millennial milieu before #cardi4theculture was ever trending.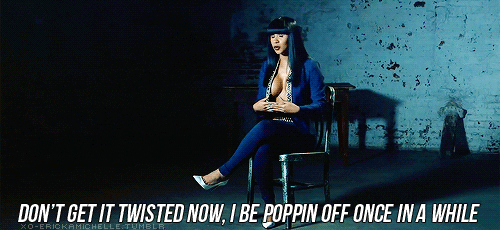 Cardi's call-outs aren't limited to just her haters. The 25-year-old "Bodak Yellow" rapper recently published a video on Instagram putting members of her now-affluent social circle on blast.
Starting the video with a very serious, "You guys wanna know some real shit that I have learned?" fans expected the rapper to drop a heavy knowledge bomb about the reality of fame. Instead, Cardi focused on the sticky-fingered habits shared by those who spend more money on an outfit than the average person makes in a year.
"I've been hanging around a lot of people that's wealthy, that is rich, that is famous," she said. "One thing I learned is that no matter how much money you have, no matter how big you are — how famous you are — they will still end up stealing your charger and your lighter."
So if you have a fire SoundCloud mixtape and are the next big thing on the scene, taking the "Lick" rapper's advice and leave your lighter at home before you hit the red carpet.