While Queen Bardi taught us all that a hoe never gets cold, we're really starting to question the reasoning behind Cardi B wearing the same black hat 24/7.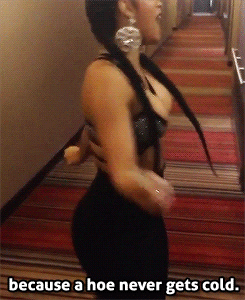 Enjoying the heavy cashflow that accompanies her gilded status as the "hottest in the streets," South Bronx rapper Cardi B no longer has to scrimp and save those strip club singles to purchase the hottest looks from top designers. However, the rapper who came from humble beginnings as a stripper-turned-reality star-turned fire femcee still stays in touch with her roots, mixing silk Versace tops with budget-friendly Fashion Nova jeans.
https://www.instagram.com/p/BbUT7rsB2ou/?hl=en&taken-by=iamcardib
With her finger on the pulse of what threads to wear at both the local bodega and the hottest Hollywood parties, we can't help but notice that the future Mrs. Offset has been flexing the same Dior beret on her Insta feed.
Here, in a video rapping along to the track "Rap Saved Me" by 21 Savage, Metro Boomin, and Offset:
https://www.instagram.com/p/BbQriXvBu5p/?hl=en&taken-by=iamcardib
Again while posing here with her husband-to-be, Offset:
The leader of the #BardiGang slipped on the accessory before posting a video thanking BET for acknowledging her as the recipient of the 2017 Soul Train Rhythm & Bars Song Of The Year Award. In a testament to its quality and staying power, the hat didn't pop off the entire time the rapper was shaking her head and telling her fans how much the distinction meant to her while also apologizing for her absence (but hey, she was trying to "finagle her bagel," OK?)
She showed her 13 million Instagram followers that she's not afraid to wear clothes more than once by captioning this pic, "My second pic with these pants on Sooo what ‍♀️." Still no mention of the fact that she's DEFINITELY worn the hat more than twice, though:
https://www.instagram.com/p/BcBKnTqBrG9/?hl=en&taken-by=iamcardib
Cardi B took her hat across the pond while in London for the 2017 MOBO Awards:
Pictured: Cardi B feat. Dior hat and newly-minted MBE recipient Ed Sheeran.
https://www.instagram.com/p/BcFkkAcBMr9/?hl=en&taken-by=iamcardib
What goes better with Versace boots than a Dior hat? Nothing, according to the "Bodak Yellow" hitmaker: