Cardi B is without question the "hottest in these streets" and no, you didn't "probably" hear of her. After today, you know her.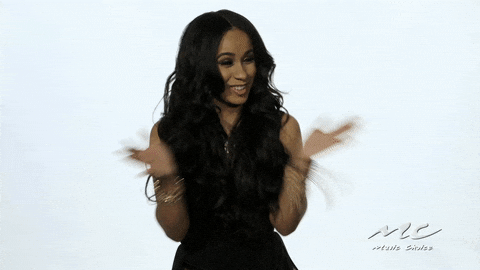 The South-Bronx former stripper turned reality star turned rapper with a larger-than-life personality and a mouth to match knows about the bloody-shoed grind that comes with getting to the top. Carefully maintaining and promoting her image of self-respecting "hoeism" Cardi keeps it 100 with her fans, churning out two mix tapes in six months all while feeding the #BARDIGANG a steady diet of quotable tweets and Insta videos.
In a shocking upset to Swifties all around the world, the newcomer rapper just dethroned Taylor Swift's "Look What You Made Me Do." Sitting comfortably at No. 2 in the week before the coup, Cardi's "Bodak Yellow" surpassed the most recent record set by a female rapper's solo single, with Nicki Minaj's 2014 "Anaconda" at No.3.
Recent records aside, Cardi became the first female rapper to top the Billboard Hot 100 chart without any featured artists in 19 years, with Lauryn Hill's "Doo Wop (That Thing)" as her only company.
Taking over Swift's title and snatching this crown from under Minaj's nose prompted more than a few intense fan reactions on Twitter.
The Barbz: *Supports Taylor Swift to Block Cardi B from going Number 1*

*Cardi B goes Number 1*

Me at The Barbz: pic.twitter.com/kPq2guS122

— King Zesty Queer™ (@TheChocoOtter) September 25, 2017
If Cardi B goes number # 1 it will have ZERO effect on Nicki's already established career… the Barbz need to chill !!!

— The Kuntess… (@Kuntess_KingBey) September 18, 2017
Taylor Swift discounting LWYMMD the week that Cardi B is due to be Number 1. pic.twitter.com/N7vOenhLCF

— Sam Prance (@samprance) September 22, 2017
The fact that Cardi B kicked Taylor Swift out of the number 1 spot on the charts pic.twitter.com/akGIku3W7a

— zack | ziegler (@zrziggy16) September 25, 2017
Thankfully, Cardi isn't one to let anyone steal her hard-earned thunder. Titled the "rap anthem of the summer" by the New York Times, the single peaked with over 170 million YouTube views and over 46 million streams and shows no signs of stopping.
Cardi's mainstream popularity stems from the rapper connecting listeners with her personal life no matter their background. On a "You Should Know" feature for Billboard, Cardi ruminates on her newfound mainstream popularity in: "People should listen to my music because it's good. I can take a Valley girl from California and make her feel like she's a gangsta-ass b—- from the Bronx."
Hats off to Cardi for hitting this major career milestone.