As disappointed as I was to see Cardi B slink off Instagram following her fight with notorious Twitter troll Azealia Banks, I still held out hope that the badass femcee would make a triumphant return to social media. Pregnant, emotional, and always ready to deliver off-the-dome burns to her haters, I was all too ready for Bardi to clap back with burns even sharper than when she exposed Banks in September 2017 for turning up to "Bodak Yellow."
One of the reasons Bodak Yellow went #1 cuz even the HATERS LOVE IT !! pic.twitter.com/CCHUhHvN8z

— iamcardib (@iamcardib) September 27, 2017
However, when Bardi hopped back onto the 'Gram it quickly became clear that the rapper was only interested in a spot of self-promotion for the recently dropped visual for "Be Careful."
Cardi B's return to Instagram
Completely separate from Bardi's muted response is the less-than-impressive music video. While there's no denying that the "Bartier Cardi" hitmaker slays her blushing bride look in the visual, the obvious wedding/funeral theme is far too straightforward.
That be careful music video is pretty boring, cardi could've done better

— mo (@uhohits_mo) May 21, 2018
I wanted a more personal take on her motivation behind the bars on the track, her first single to stray from her usual formula of churning out trap bangers ready for rotation in the club. The song itself doesn't have a scorned-ex vibe, nor does it paint the picture of someone who would metaphorically spit on the grave of a former partner caught creepin'. So why is the visual so direct?
Bardi missed a huge opportunity here to tap into the raw vulnerability on "Be Careful" that garnered praise from fans and critics alike. We all know Cardi B is quick to cut a triflin' man off, because she hammered that point home on all her "Gangsta Bitch" mixtapes. However, when she had a chance to show fans the pain behind the mask, she instead chose to go the safe route and stray from the track's actual message.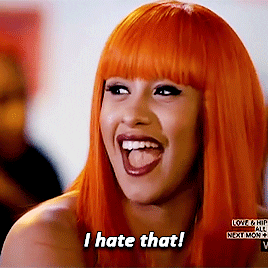 Watch the full "Be Careful" music video below and judge for yourself. Did Bardi miss the mark with this one?