Chance The Rapper stopped by "The Late Show With Stephen Colbert" and performed, for the first time, an unnamed track with Canadian R&B singer Daniel Caesar that was penned just two days ago.
.@chancetherapper and @DanielCaesar are performing an incredible song that was written just 48 hours ago! #LSSC pic.twitter.com/xozg5xYDE0

— The Late Show (@colbertlateshow) September 26, 2017
Aside from his performance as the show's musical guest, Chance also sat down to chat with Colbert about the track, revealing that a last-minute change led to its debut. Originally slated to perform "Grown A– Kid" off of his latest album, the three time Grammy Award-winner revealed that he needed to switch the track for reasons he "really doesn't want to talk about."
Chance then added, "We had to come up with a song in a matter of days and I wanted to do something fresh. Not to lie, I've been in the studio lately cooking up some yammers." With a sly smile and a tug of his signature "3" hat Chance reassured Colbert that his new tracks were "honestly great."
On a minimalistic stage reminiscent of an open-mic set at a local coffeehouse, Chance and Caesar are bathed in a rich blue backlight that seems to swallow everything but their microphones. Alternating between lyrically-packed verses and a chorus that showcases Chance's soft and soulful singing voice, there's no catchy hooks to detract from the message- just Caesar's delicate melody and rich backing vocals.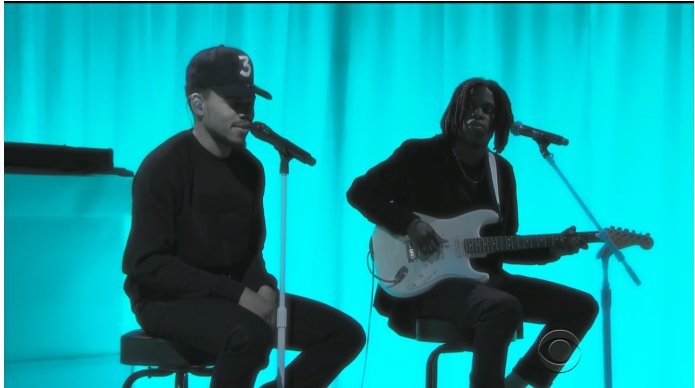 Chance's return to spoken-word rap over a radio single is powerful in its own right, but it's the complexity of the verses coupled with his emotional delivery that leaves the audience speechless. The opening bars set the mood for the unnamed song, in: "I get sad when I look at the stars / They so pretty, you can't tell 'em apart / You think they close but really we far / And really, they ain't even that much closer to God."
Unsurprisingly, Twitter was here for the new music and fans were quick to give their praise to the rapper and even got #chanceoncolbert trending.
that was such beautiful poetry @chancetherapper #ChanceOnColbert

— Ellery Wheeler (@ElleryWheeler10) September 26, 2017
@chancetherapper you are my FAVORITE PERSON EVER. TODAY 👏🏼IS👏🏼THE👏🏼DAY👏🏼❤️#chanceoncolbert

— Kayde (@kdlynmarie) September 26, 2017
This new @chancetherapper x @DanielCaesar collab is so amazing oh my

— Levi (@levithomas21) September 26, 2017
Watch the incredible full performance above.