Cardi B's smash debut single "Bodak Yellow" has done far more for the Bronx rapper than just "pay her mama's bills"; it's caught the attention of Christian Louboutin himself
The first female rapper to snag the top spot on the Billboard Hot 100 chart since 1998, Cardi is enjoying the fame and fortune that comes with spitting record-breaking bars.
With catchy, take-no-shit lyrics propelled by Cardi's hypnotic flow, the song's best lines were quickly immortalized in meme culture, a mark of viral popularity that the rapper herself shared with her 10 million Instagram followers.
https://www.instagram.com/p/BXBy8LwBl7L/?hl=en&taken-by=iamcardib
The lyrics, "These expensive, these is red bottoms/ These is bloody shoes/ Hit the store, I can get 'em both/ I don't wanna choose" are a clear nod to luxury shoe designer Christian Louboutin. A quick flash of Louboutin's trademark red soles serve as an instant status marker, synonymous with sex appeal and extravagance, a sight Cardi coveted back when she was a stripper struggling to make ends meet in the South Bronx.
Speaking to Billboard, Cardi's stylist Kollin Carter revealed, "In real life, before 'Bodak' blew up, she wore red bottoms because that's what it means to make it in the Bronx. It's a status symbol that the masses can relate to; everyday girls work hard and save up their money to have that shoe. Cardi did the same."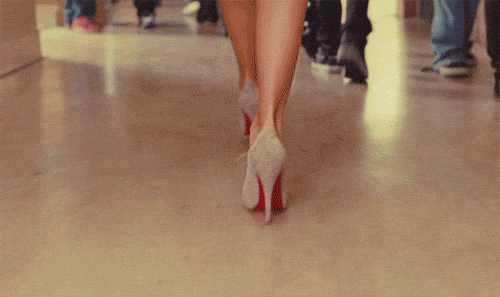 While Cardi's impressive worldwide fame had crowned her the "hottest in the streets," Louboutin revealed he wasn't completely up to date on the "Bodak" rapper's success.
When questioned by the New York Times he replied, "She's a rapper? This 'Yellow' song?" He then revealed that while he is aware of "Bodak Yellow" he "doesn't know much more than that," taking strides to not "get caught up in fame."
Louboutin then added that he is definitely up to meeting the rapper, recognizing that Cardi's star power is reminiscent of his very first customers. "'In a way, it comes back to some of my origins," he said. "The first shoes I ever designed were for showgirls, people on stage. Showgirls have a kind of attitude – they're driving forces."
Here's to refreshing our Instagram feeds in anticipation of that Cardi/Louboutin red-bottomed selfie.