While supermodel Cindy Crawford is Benjamin Button-ing herself to achieve some serious #Twinning goals with daughter Kaia Gerber, we're busy fighting the same jawline acne that pops up whenever TF it wants. The fashion icon who strutted her 5-feet-9-inch frame down the runways of the hottest fashion houses of the '80s and '90s has passed the torch to her stunning and equally talented daughter.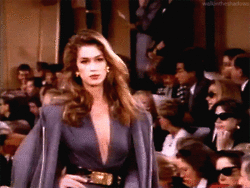 With the same silky brunette locks, perfectly-shaped brows and slender frame, it's no surprise that Gerber is already a muse of fashion powerhouse Versace and modeling for magazines like Vogue and Paper Magazine. The 16-year-old has already made a name for herself as an up-and-coming force in the beauty world, an accomplishment that has made her supermodel mother "so happy."
"Congrats @KaiaGerber! What a way to kick off your first runway season!! So excited for you," captioned Crawford in a pic posted of her daughter's runway debut.
Speaking to People, Crawford then revealed that she (of course) passes down hard-earned tricks of the trade to her daughter. "I'm so happy for Kaia and tell her there are no beauty secrets but she needs to remember to take off her makeup before she goes to bed each night," she said. "I also tell her not to over tweeze her eyebrows because they won't necessarily grow back."
Adding that she also stresses the importance of good health basics like "regular exercise, drinking lots of water, eating well, sleeping enough hours and staying away from smoking" to her offspring, there are SOME areas where she's forced to ask for help.
"I can suggest these health and beauty tips from my own experience but when it comes to modern technology, I have both of my kids advise me!" she said, poking fun at herself.
Tbh, we're still stuck on the part where Crawford said that there were "no beauty secrets."