Aside from internet sweetheart Cardi B, no one's come-up intrigues me as much as Danielle Bregoli aka Bhad Bhabie's does. At one time nothing more than a flash-in-the-pan viral celebrity known for her infamous "cash me outside" catchphrase uttered during a cringeworthy "Dr. Phil" appearance, Bregoli soon proved that she had much more to offer the world.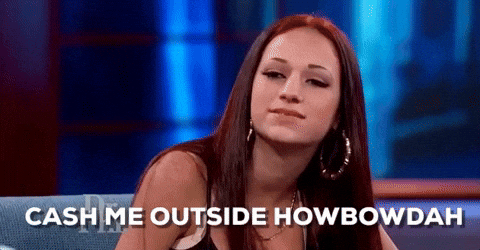 The leader of a new brand of young celebrity operating far beyond the Disney star formula to fame, Bregoli soon proved that she could attract and command a fandom all on her own. Silencing haters with a fire work ethic and a surprising business acumen for a then-14-year-old, Bregoli quickly rebranded herself as Bhad Bhabie, a no-nonsense rapper quick to spit venom on broke "biches" (despite the fact that she'd been one just months prior) in the studio.
climbing dem charts bich 🖤🔥🎉 #gucciflipflops https://t.co/JyLtLS6TO2

— #GUCCiFLipFlops (@BhadBhabie) May 21, 2018
Danielle Bregoli aka Bhad Bhabie is here to stay
Like the rest of the civilized world, I at first scoffed when news broke that the "cash me outside" girl was trying to become a rapper. However, once I heard the snap-ready sound of Bregoli's distinct South Florida drawl mixed with a heavy trap beat on "These Heaux," I knew the teen was sitting on a career set to take off. Recently sitting down with Complex magazine, Bregoli delivered a surprisingly mature explanation of her capitalizing on her 15 minutes of fame.
say what you want about Danielle bregoli but she knows how to market herself. she should have faded into obscurity after 15 minutes but

— アニメはゲイです (@HoboWaves) October 10, 2017
"I think it was kind of like, I have this platform, being famous. I can see how I want to use it," Bregoli said. "So I went to a studio and they were like, Oh, my gosh, you're not bad at it. You have the ability. And then [Atlantic] was like, we wanna sign you. And I was like, okay!"
Danielle Bregoli aka @BhadBhabie was only "supposed" to have 15 minutes of fame.

But 15-year-old rapper is letting the world know that she's got more time on the clock. https://t.co/MecMX2cGB4 pic.twitter.com/8sh1NrSYoQ

— Complex Music (@ComplexMusic) May 23, 2018
With endorsements from her industry mates, a six-figure record deal, and a history-making performance on the Billboard Hot 100, Bregoli is here to stay and I couldn't be happier. As entertaining to watch on her social media accounts as she is to listen to on wax, the making of Bhad Bhabie is far from an accident. She provides the perfect balance to the tangle of Instagram thots cluttering up the pop culture ranks.
Big ups to an up-and-coming young celebrity who knows how to grab what she wants when opportunity strikes in a way that inspires jealousy in middle-aged trolls who swear she's EXACTLY what's wrong with her generation.
Sorry, bich. Bhad Bhabie is everything that's RIGHT in an age when literally anyone can be famous.