While you may not be able to "cash her ousside" anymore, you can definitely catch Danielle Bregoli with a thick wad of cash. But how much cash does Bhad Bhabie actually have? Let's talk about that Danielle Bregoli net worth.
The foul-mouthed bhad girl rose from the two-dimensional confinement of Internet meme-land. And she's become a certified rap artist seemingly overnight. With certified bops like "Hi Bich" and "These Heaux," 14-year-old has removed herself from the shadow of obscurity that looms over all viral celebs clinging to their 15 minutes of fame.
Peep the timeline below. And witness exactly how Bregoli cashed in on her foul mouth and IDGAF attitude.
September 2016- Dr. Phil Tries (And Fails) To Give Bregoli An Attitude Adjustment
Bregoli's tumultuous relationship with her mom earned attention on a September 2016 episode of "The Dr. Phil Show." The out-of-control teen caught the Internet's hearts and minds by prompting the audience "full of hoes" (read: middle-aged white women) to "cash her ousside." The catchphrase quickly went viral. And Bregoli's once-quiet social media accounts soon boomed with follower requests and public praise for her IDGAF attitude.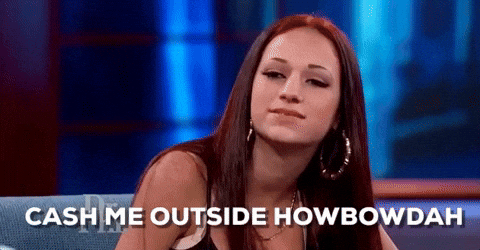 February 2017- The Prodigal Daughter Returns to Dr. Phil
Now an established Internet personality, Bregoli returned to the show that made her famous to showoff her "reformed" behavior. That was following a stay at the quasi-rehab facility, Turn-About Ranch. Despite the fact that Bregoli promised to change her ways and not "put on a front" anymore, the teen's mom Barbara Ann soon revealed that her wild-child was back to her old habits. Bregoli still proved hell-bent on mouthing off to authority figures in her own unique style. She complimenting her own viral fame while sneak-dissing the TV doctor all in one breath. "I guess what's good for you is, I made you just like Oprah made you," she said. "You were nothin' before I came on this show."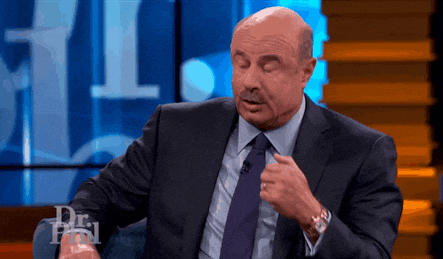 February 2017- Spirit Airlines Brawl
Bregoli's public profile raised a notch higher when she threw a punch at another passenger who allegedly hassled her mom. Bregoli wasn't arrested for the assault. But she and her mother were issued a lifetime ban from the airline itself. The rapper even mentioned the incident in her latest song. She mentions being completely unaffected by the ban as she now has the money to upgrade her airline selection: "I ain't worried 'bout no basic bitches/All y'all look like you still fly Spirit."
February 2017- Social Media Endorsements/Collabs
Bregoli stayed on her grind, clinging to her ever-growing fame with her trademark fake nails. With her follower count now in the millions, Bregoli began making sponsored posts for companies like Fit Tea. And she even appeared in a few videos with famous YouTuber Logan Paul.
https://www.instagram.com/p/BQs2baxgTzx/?hl=en&taken-by=bhadbhabie
Bregoli's payday from these sponsored listings depends directly on the amount of viewers who interact with the post. But we can estimate she pocketed anywhere from $10,000 to $50,000 for a single post.
February 2017- Bregoli stars in Kodak Black's "Everything 1K" video.
With Bregoli listing rapper Kodak Black as her celebrity crush, it's no surprise that the teen jumped on the chance to appear in a visual for his single "Everything 1k." With a skimpy outfit, thick wad of cash and a solid gold grill, Bregoli rapped along to the explicit lyrics on the roof of a luxury car. You know, totally normal behavior for the then-13-year-old.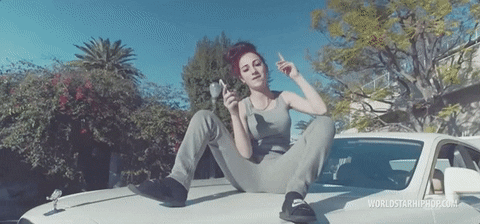 Teasing an upcoming rap career, Bregoli then began operating under her stage name Bhad Bhabie full-time.
August 2017- Bhad Bhabie Becomes Official With Rap Debut
Steady grinding with her social media celebrity status, Bregoli stayed out of the limelight for a bit in order to deal with her pending criminal charges. She skated out of the courtroom with a sentence of five years probation. Then she hit the studio to finally complete her transition into Bhad Bhabie. The rapper dropped her first official track with "These Heax." The song ruthlessly sprays lyrical acidity on her haters. "These hoes be lackin', see me in the back/ They talk all that shit, but don't say it in person/ Won't catch me off guard in no boulevard/ Four in my car, and my driver my guard," Bhad Bhabie spits on the track. It now has more than 10 million streams on Spotify.
September 2017- Bhad Bhabie Lands A Deal With Atlantic Records
Only one year after her first push into the public eye, Bhad Bhabie rode the success of her debut tracks right into the offices of Atlantic Records. The label, whose roster of famous artists include chart-toppers like Cardi B and Ed Sheeran, paid millions to sign the young rapper.
Danielle Bregoli Net Worth 2018
So what exactly is that eye-popping Danielle Bregoli net worth? Adding up Bhad Bhabie's endorsement deals, $40K public appearance fee and newly minted record deal, Danielle Bregoli could be worth a whopping $10 million before the end of 2017.