If you think DJ Khaled's jet ski accident was enough to stop the music mogul from turning the harrowing event into another "key alert," you played yourself.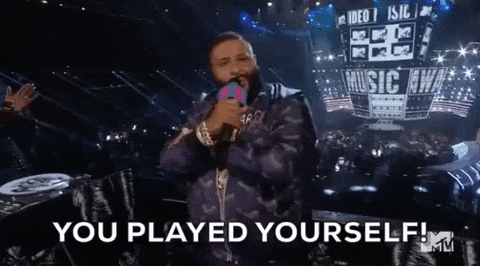 The social media star and multi-platinum award-winning recording artist took to Instagram to first share footage of his experience on the Miami waterways…before things took a turn for the worse. Exhilarated by the jet ski's top speed, Khaled couldn't help but #BlessUp his ride with a few screams for his #FanLuv follower base.
Soon, Khaled found himself trapped in a tangle of branches and tree limbs blocking his path ahead. True to form, the charismatic executive saw the literal blockade as an opportunity to preach another life lesson about perseverance to his IG followers.
https://www.instagram.com/p/Bc74fweFiIz/?hl=en&taken-by=djkhaled
"In life there's road blocks !!! The is to over come it !! LION ORDER !!! ," he wrote.
Never one to keep his fans in the dark, the We The Best Music Group founder soon delivered an update–he was definitely still stuck, but remained hopeful and in good spirits. His cries of "Oh shit!" were soon followed by self-affirmations like "I'm gonna figure this out" and "I'ma figure this OUT."
Unfortunately for the viral music exec, things only got worse when he attempted to free himself by jumping in the murky water.
https://www.instagram.com/p/Bc77D_elCSI/?hl=en&taken-by=djkhaled
"I jumped in the water to try to move the ski out the tree," he said. "I cut myself. The key is don't panic. This ain't no joke, team. I ain't panicking, I just got to figure it out. In life, there's roadblocks. I am stuck in a tree in the ocean."
Not willing to accept the fact that he was bested by a fallen tree, Khaled sent a public plea to his longtime partner Nicole Tuck and the rest of his team to "check their texts" and to send help. To further prove that he really did keep his composure throughout the ordeal, Khaled even uploaded a screenshot from a FaceTime session with his son Asahd while he was still stranded above water.
Thankfully, the famed producer was eventually freed and able to stop by Diddy's house for some much-needed first-aid and relaxation.
"I'm OK, I made it to Diddy's house," said Khaled, the relief evident in his voice.
Seemingly unfazed by the experience, Khaled suited up later that same day to hit the waves once more with Diddy and Drake.
https://www.instagram.com/p/Bc8FppXFXOy/?hl=en&taken-by=djkhaled
Looks like nothing can keep these boys down when they're on their #MOGULTALK grind.