Dove Cameron's dedicated social media following has been tweeting and lobbying for years to elevate the star's status in Hollywood, and the Academy of Television Arts and Sciences FINALLY handed their girl an Emmy nomination.
Dove Cameron out here getting a Emmy nomination for Liv and Maddie. We Stan talent

— Leon (@sexwithblair) April 1, 2018
Snagging a nomination in the best performer in a children's series category for her work on the Disney Channel comedy series "Liv and Maddie," Cameron proved she really is the triple threat she promoted herself as during her come-up. Recently signing with Columbia Records, Cameron proved that she is far too talented to take the Bella Thorne post-Disney path and that advancing her career is a much better alternative to showing side boob and oversharing on social media.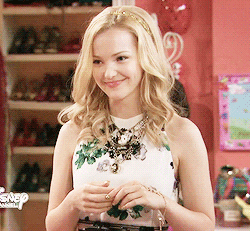 Unable to let the moment pass unnoticed, Cameron's on-screen mother and IRL bestie Kristin Chenoweth took to Twitter to shout out her "Descendants" co-star.
"Mama and co mama!!! I love you and proud of you too!!" wrote Chenoweth in a tweet directed at Cameron's IRL mother.
Mama and co mama!!! I love you and proud of you too. !! https://t.co/YBGPMP8sgy

— Kristin Chenoweth (@KChenoweth) March 22, 2018
Stepping her game up, the Broadway star even sent Cameron a heartfelt message of congratulations, which the 22-year-old then posted to her Instagram feed.
"when you look back on your life and somehow your childhood hero/role model is now your friend & mother figure and she's wishing you congratulations on your emmy nomination and it's actually not a dream ??¿¿ or maybe it is ????" captioned Cameron, staying humble in light of one of the biggest names in the theater world professing her love in front of the teen star's 17.3 million Insta followers.
Big ups to Dove Cameron for securing her nomination by way of playing identical twins in a dual role with such finesse that she manages to throw shade on Lindsay Lohan's famed "Parent Trap" days.
I'm rooting for you, Cameron. We're ALL rooting for you.