It's said that we all learn something new each day and if that's the case, today's fact is that Dove Cameron once performed with Ryan Gosling's band.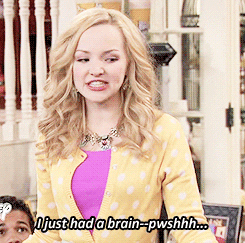 In a mind-blowing throwback, Cameron shared a snap of her 13-year-old self meekly smiling next to the famous actor while decked out in some seriously questionable white face paint.
"one of the strangest throwbacks i have; 13 year old me and ryan gosling. i performed with his band @deadmansboness in a club seattle before i was an actor," she wrote. "yes; i have ghost makeup on. yes; i plucked all my eyebrows off. no; i have not grown one inch in 7 years. legends only."
While the "Liv and Maddie" star failed to follow up with some video footage of the performance, her 15 million Insta followers were satisfied with just the pic and flooded the post's comments with praise for the unlikely collab. One fan even echoed the actress' "legends only" caption with: "WHAT THE HECK?! Ommmgggggg this picture is legendary 😂😂😂😂😂👏🏼👏🏼👏🏼."
While some #Dovelies were desperate to know Cameron's secret for growing her eyebrows back, other fans honed in on the little known fact that Gosling is in an Indie rock duo with his friend Zach Shields and that their band has been active since 2007.
Performing under the alias Baby Goose, Gosling and Cameron linked up when the Dead Mans Bones frontman was performing in the actress' hometown of Seattle.
Listen to Gosling hit the vocals, bass and guitar below (it's worth a listen, we promise):