What started as playful banter on social media between two veteran emcees quickly morphed into an awkward cringefest once Eminem took his pleas to link up with rapper Nicki Minaj a bit too far. As hard as I would ship a Slim Shady x Nicki Minaj hookup that would no doubt lead to more iconic jams in the same vein as their "Roman's Revenge" collaboration, it became clear from the jump that Minaj was simply using the speculation as fuel for her "Big Bank" promotion.
Nicki Minaj is dating Eminem???? We love a publicity stunt

— ✨Ricky Ticky Tan✨ (@Remdelarem) May 25, 2018
Following their tongue-in-cheek confirmation of the rumors, Eminem has been doing the most to keep the narrative running, even going so far as to shout out the "Chun-Li" rapper TWICE while performing.
Nicki Minaj confirms rumors
About her and Eminem dating.
Is this a publicity stunt or do y'all
Think this is for real?…🤔🤔🤔 pic.twitter.com/BiOuhXD7Uw

— DΛLLΛS LOCΛLS (@DallasLocals) May 25, 2018
Eminem needs to stop asking Nicki Minaj to date him
During his recent set at Governors Ball, Em hopped onto the mic to once again talk to the crowd about hooking up with the Queen of Hip-Hop. "Nicki! Let's do this!" screamed the "Lose Yourself" rapper. "I'mma tell you something about Nicki that you don't even know — we go together. That's all I wanted to say, thank you for letting me get that off my chest."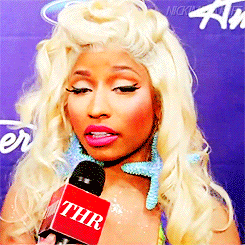 Despite the fact that I've been an Eminem stan for years, I couldn't help but cringe after hearing his onstage admission.
https://www.instagram.com/p/BjlxB-jla2x/?utm_source=ig_embed
Clearly attempting to snag some positive PR after his album "Revival" was absolutely eviscerated by critics, Eminem's attempt at riding Minaj's coattails in the sprint leading up to the release of her new album "Queen" is tragic.
Fake as hell

— mansa_musa (@mansa_Musa404) June 4, 2018
Following her triumphant return to social media, Minaj's presence on Instagram and Twitter has been nothing if not consistent. Undoubtedly, the "Barbie Tingz" rapper caught wind of Em's latest onstage plea and yet made a conscious decision not to publicly respond. While Em desperately wants to become next Mr. Minaj, the Queens-bred rapper is OBVIOUSLY not feeling it.
Let it go, Slim. You're embarrassing yourself.