Without Beyonce, Destiny's Child was nothing more than a duo skilled at creating backing harmonies. Without Justin Timberlake, NSYNC was, at best, a group of men approaching their mid-30s still sporting frosted tips and matching denim. Unfortunately for girl group Fifth Harmony, the trend held true and the quintet's days were numbered as soon as breakout star Camila Cabello announced her departure in December 2016.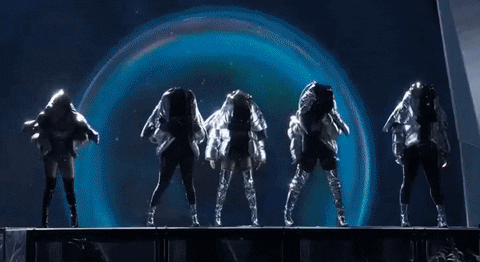 Reeking of reality-show levels of forced participation and flexing an overly manufactured sound, the Simon Cowell-backed group has never fully had my support. Finally, after six years of churning out one generic Top 40 pop hit after another, Ally Brooke, Normani, Dinah Jane, and Lauren Jauregui took to social media to announce the beginning of their (hopefully permanent) hiatus.
Fifth Harmony is officially on hiatus
"FOREVER & ALWAYS

I love you more than you'll ever know. Thank God for all of it," wrote Normani, who has already released her first solo track, "Love Lies," with Khalid.
FOREVER & ALWAYS 🕊 I love you more than you'll ever know. Thank God for all of it pic.twitter.com/Q9qpeeza1A

— Normani (@Normani) May 12, 2018
"I love you," wrote Ally Brooke, who will undoubtedly fade from the limelight before scoring a spot on "Dancing with the Stars" in a few years.
I love you pic.twitter.com/RWSycn2GMC

— Ally Brooke (@AllyBrooke) May 12, 2018
"Thank you," wrote Lauren Jauregui, who has a long future of dating rappers to keep herself relevant on the horizon.
With live performances that never crested beyond the level of a high school talent show and with an apparent indifference toward their fans and their own celebrity, I'm admittedly not upset to see Fifth Harmony split. Known for their skimpy outfits and shaky vocals, the quartet is a far cry from the immortality of groups like Destiny's Child and the Spice Girls.
Aren't they really a Sex-Cult group though. It's sad what was done with them. Smh.

— ruby brown (@RubyRose3228) May 13, 2018
Sorry, die-hard #5Hers. The only compliment I can offer to Fifth Harmony's surface-level impact on popular culture and the music industry as a whole is that "Work from Home" is a bop and is still present on hundreds of Spotify #TurnUp playlists. TBH, it's a miracle that the group lasted as long as it did.