Famous YouTuber and transgender activist Gigi Gorgeous is at the center of some serious Twitter crossfire after her latest vlog. The social media sensation has been praised for the honesty and transparency of her channel, amassing nearly 3 million subscribers and 2 million Instagram followers on her path to becoming a bonafide Internet personality.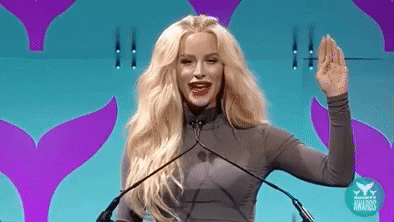 Documenting her struggles both pre- and post-transition, Gigi Gorgeous has emerged as an inspiring public figure in the LGBTQIA community. However, the "Project Runway" star proved she's not above reproach when it comes to insensitive remarks.
In one of her latest vlogs, the viral star recounted the time when she and and her sister were "broke and homeless" in LA, promising subscribers that it was NOT clickbait.
Not only was her vlog 100-percent clickbait, Gigi Gorgeous' claims of homelessness were grossly exaggerated and offensive to the millions who struggle to find a place to sleep nightly, an unfortunate reality for many LGBTQIA youth. In the video, Gigi explains that she and her sister traveled to LA after being promised housing from her then-manager. Upon arriving to his luxury apartment, the siblings were upset to notice that his girlfriend was also present and so then CHOSE to seek separate sleeping accommodation as they were "so f—ing uncomfortable" on his couch.
As the duo were "both a little poor," at the time, the only hotel they could afford was a small, low-budget lodge which the sisters deemed a "compromise." After hearing strange noises (which was actually turned out to be just a drunk man mixing up his room number with theirs) Gigi Gorgeous and her sister fled to her former manager's apartment but were unable to get inside due to the late hour. The two then fell asleep in the alleyway next to the apartment block, inaccurately described by the star as a "full-on homeless night in LA."
The activist's fans were quick to drag the vlog on Twitter for its tone-deaf equation of getting locked outside to being truly homeless. The response to the video's promotional Tweet was unforgiving, with comments like "The most ignorant and insensitive video, look in the dictionary what been homeless means and then you can apologize," quickly populating Gigi Gorgeous' @replies.
I understand that this was a scary experience for you, but this is not what being homeless is. Being homeless is having nothing… (1/3)

— Gianna Laura (@g2gianna) October 12, 2017
I love you, your content, and your general good intentions, but I cannot respect this. I hope you realize your mistake. (3/3)

— Gianna Laura (@g2gianna) October 12, 2017
She's unbearable. She thinks she gets a pass to be problematic and offensive but I'm over it. Just another rich white woman.

— buy POWER on iTunes (@registeredhoe) October 12, 2017
Gigi Gorgeous has yet to issue a public apology or take down the video from her channel.