Hold on to your wig, because supermodel Gigi Hadid and troubled former boy-bander Zayn Malik are back together.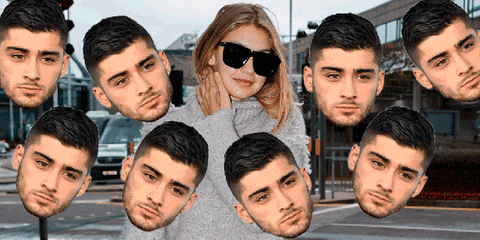 Always eager to flaunt their two-year relationship on social media for the benefit of their obsessive fan bases, Hadid and Malik shocked the world by suddenly announcing their split in March 2018. Taking a page out of the tried-and-true celebrity breakup handbook, both stars reassured stans that they were moving forward separately while still retaining the "utmost respect and love" for one another.
https://www.instagram.com/p/BK58mcljoN9/?hl=en&taken-by=gigihadid
Now, after weeks of a #Zigi reunion picking up steam in the press, Hadid made their rekindled romance Instagram official by posting a cozy pic to her Story.
Gigi via her Instagram Stories. ❤️ pic.twitter.com/0QbsAeqb2C

— Zayn&Gigi News (@ZigiFacts) June 6, 2018
Gigi Hadid and Zayn Malik are back together
Malik was without question my least favorite member of One Direction (I'm not down with the mopey and ungrateful members of the Hollywood elite). But I'm honestly relieved to see that he's back with his ex. Undeniably, the "PILLOWTALK" singer was not successful in navigating his high-pressure life post-breakup. Shortly after their split made headlines, Malik uploaded a string of emaciated selfies that sent fans into a tailspin, worrying that his oft-discussed battle with an eating disorder had returned in full force.
Gigi is handling the break very well. Zayn's taking it all out on instagram, one skinny selfie, two skinny selfie, three skinny selfie, four skinny selfie.. he is the sum cumulative of all 15 year old girls everywhere after a break up. Even I want to dump u now.. stop it!

— whatsinaname (@thesanagul) March 17, 2018
In addition, the 25-year-old pop star also chose a Hadid lookalike for the music video of his most recent single, "Let Me," in a move that signaled he was CLEARLY not over his ex.
so we're just gonna pretend that the girl in let me doesn't look like gigi?

— rosemary (@rtfrye) April 12, 2018
Hopefully, Hadid's return to Malik's brooding chaos will be just what the troubled solo star needs to stop posting cryptic messages on Instagram. Clearly not cut out for the #SingleLife, as he handled their split like a high schooler, Malik is obviously not made to push through life in the public eye on his own.