When battling for a spot as one of the top influencers in the $500 billion beauty industry, the competition is gonna get ugly — unless you're a contestant on "Glam Masters," in which case it's gonna get glam AF.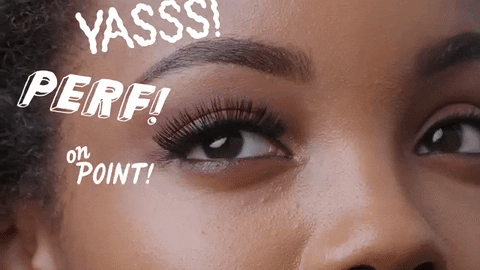 With their mascara wands at the ready, contestants Stephanie Tear, Stella Kae, Bryan Mendez, and Jennifer Ward each took a seat at their own workstation outfitted with products straight from any makeup artist's wet, glittery dream. Just as any intro scene feels empty without a name drop, Mendez took a good chunk of his initial screen time to let his fellow competitors know that he's been working with the #SlutWalk queen herself, Amber Rose. Show up or show out.
Judged by the glitterati of glam, the four hopefuls were first tasked with creating a fire smoky-eye selfie to be critiqued by Kandee Johnson, Zanna Roberts Rassi, Laverne Cox, and Kim Kardashian's personal makeup artist/pioneer of the #ConcealBakeBrighten trend sweeping social media, Mario Dedivanovic.
While Mendez was out here killin' the game with his shimmer/matte dualism that came ALIVE when he blinked, Ward served up a selfie with a skin tone that looked like the bottom of the toilet bowl after a hard Friday-night turn-up session. TBH, I expected way more from the former Miss California — and so did the judges. Unable to ignore the fact that Ward couldn't color-match her foundation, the judges nixed her shot at a seat in the semifinals as the first challenge came to an end.
Looks a tad sloppy Jennifer kind of mermaid ish #GlamMasters

— staleyinsight (@staleyinsight) April 5, 2018
Still standing, Tear, Kae, and Mendez set to work on creating a fantasy, bejeweled look more fitting for a high-fashion runway than a Coachella selfie. While the judges slammed all the artists for muting their inspiration and approaching the task far too light-handedly, it was Kae's lack of precision in both challenges that sent her strutting out the door.
I love Stella's story but not the look #GlamMasters

— staleyinsight (@staleyinsight) April 5, 2018
For the final challenge, both Tear and Mendez created fierce, red carpet-ready looks on identical twin models. With Tear's heavy, dark brow a poor choice for both the eye makeup and complexion of her model, Mendez moved forward to join Argenis, Glamzilla, Vic Brocca, Alexx Mayo, and Julia Dantas in the semifinals.
"I don't know what my competition is gonna be like, but this will mean the world to me," said Mendez.
Have you watched #glammasters yet?? My pal @bryanmendez made it to the semi-finals!! Can't wait to watch him kill it again next week. So proud of @DianaMadison too for creating this amazing show with @KimKardashian 🙌🙌 pic.twitter.com/FbHmveKuk4

— Dana Ward (@DanaWardOnline) April 5, 2018
"Glam Masters" airs Wednesdays at 10 p.m. ET on Lifetime.