Grab your best beauty blender and clutch your pearls, baby, because it's here — the recap of the semifinals of "Glam Masters," where previous episode winners Argenis, Glamzilla, Vic Brocca, Alexx Mayo, Julia Dantas, and Bryan Mendez had an opportunity to celebrate beating over a dozen other beauty industry hopefuls to fill the coveted six slots.
Who is watching #GlamMasters ? It's the Semi Finals

— Kim Kardashian West (@KimKardashian) April 12, 2018
TBH, watching my past favorite competitors from the reality beauty competition strut back onto set and hang their signs over their workstations made me inch closer in my seat and scream "Work it, feel it, own it, live it, love it … YAS!" alongside the ever-changing intonation of host Laverne Cox. With Glamzilla back to toss her bangs and stiletto-stomp over her competition with the same exhilarating confidence that made her an instant fan favorite, I knew I had to secure my wig before the first "Out of Your Comfort Zone" selfie challenge — because it was obvious that SOMETHING was getting snatched.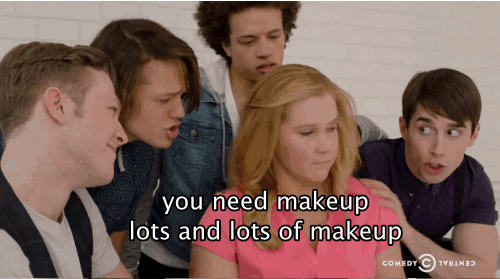 After Mendez was sent packing by judges Kandee Johnson, Zanna Roberts Rassi, Laverne Cox, and KKW beauty demigod Mario Dedivanovic for missing the mark with his Rihanna-inspired, heart-shaped editorial look, the remaining five competitors were tasked with creating mind-blowing optical illusions using only makeup. Never one to bite her tongue, Glamzilla didn't hold back with how much she struggled to create a mind-bending look while serving up a dripping eye on the "melting" canvas that was her model. Turning the reality series into a horror show, Glamzilla was eliminated and sent home amid a flurry of tears from herself, her fellow competitors, Dedivanovic, and the Twitterverse.
I'm just saying, on American Idol the winners aren't really the winners 🤷🏻‍♀️

— GLAMZILLA (@glamzillaxo) April 12, 2018
Realizing that my budget, drugstore mascara was NOT waterproof as I brushed away Lauren Conrad-style tear tracks, Argenis, Vic Brocca, Alexx Mayo, and Julia Dantas geared up to capitalize on the high-fashion editorial graffiti trend popularized by the runways of New York Fashion Week. In between reminding viewers that she lived in the country and insisting that she's a relatively new force in the makeup game, Dantas proved she could translate the prismatic colors of the street into a high-fashion look worthy of gracing the pages of Marie Claire.
#GlamJulia's editorial look will really want to be copied by aspiring makeup artists everywhere now that it will be featured in a magazine! They will want her creativity tips! #GlamMasters

— Colin Brinkley (@cb_yellowjacket) April 12, 2018
With one final game-changing announcement, the judges revealed that because each of the four remaining contestants slayed the graffiti challenge, they would ALL be advancing to the finals next week. "You all did wonderful work and we couldn't come to a decision," Cox said. "We want to see more from you — the next time we see you, it will be in the finals, where one of you will be crowned the very first Glam Master."