I never thought I'd come around to seeing the appeal of all the hype surrounding Instagram "it" girl, model, and Kendall Jenner bestie Hailey Baldwin, but now I understand why she has such a dedicated fan base.
if you respect Hailey Baldwin open this tweet

ㅤㅤㅤㅤlove u bitch

— marie (@cavillsprada) June 25, 2018
Initially, I lumped Baldwin in with every other young Hollywood starlet with celebrity parents as an entitled rich kid with no boundaries or understanding of how the world works outside their gilded bubble. Often shy with the press and closed-off in promotional interviews, I assumed that Baldwin had the personality of a wet blanket as a result of growing up in an environment where no one told her "no."
I don't understand how Hailey Baldwin is famous. So boring. So basic. Don't @ me.

— Sugar Cookie (@audreypodge) December 17, 2016
Now, freshly flaunting her rekindled romance with former fling Justin Bieber, Baldwin is emerging from her shell and the gloves are coming OFF.
Hailey Baldwin is being petty by flaunting her new relationship
From the ashes of #Jelena rises #Jailey, the OTP ship hailed by legions of stans as the ultimate pairing for Bieber. Apparently, Baldwin actually has strong feelings for the Biebs and is darkly amused by the thought of Gomez watching their relationship blossom from the sidelines.
"Hailey is loving all the PDA with Justin and she knows that Selena [Gomez] is watching, which makes it even better. [She] has wanted this with Justin for years," said a source close to the IMG-signed model.
"Hailey would see how happy Justin seemed with Selena and it was hard for her to watch. Now, that the tables have turned, Hailey is sure that Selena is watching too, just as she did," the insider continued.
Yas girl, slay.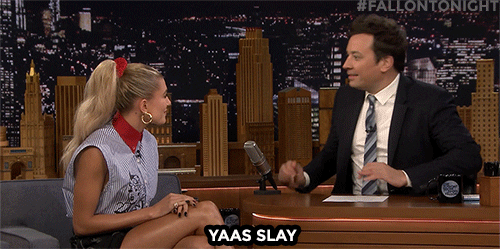 The fact that Baldwin is so protective of her man and her new relationship makes me like her so much more because it makes her human instead of coming off as some blonde clone from the Hollywood Hills. Also, the model should not stop flaunting her PDA-heavy romance with her pop star boyfriend just because she's concerned with what his equally famous ex may think.
I mean really, who HASN'T stalked their crush/new partner on social media to make sure they aren't liking pictures of their exes? It's completely normal to both compare yourself to your new beau's ex to see how you measure up and rejoice in the fact that now you're beside the partner you've been crushing on.
yano when you compare yourself to your ex's ex or new girl and you just know you look better, you don't even need to tell yourself you just know, that's one of the best feelings

— Tia Ramsey (@tiaramsey03) June 25, 2018
I always appreciate a solid dose of petty pie, and right now, Baldwin is undeniably serving up seconds.