While Jake Paul, the foul-mouthed little brother of disgraced YouTube sensation Logan Paul has experienced his fair share of controversy lately, there's no denying that the 21-year-old online entertainer knows how to vlog.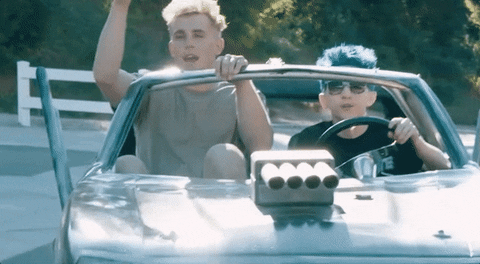 Aside from creating his own thriving social media incubator and hating on his ex-girlfriend Alissa Violet, Paul has been busy tending to his on-screen relationship with fellow Team 10 member and YouTube star Erika Costell. Affectionately referred to as #Jerika by Paul's overzealous social media fanbase, the #JakePaulers can't seem to get enough of Costell's ride-or-die presence on the vlogger's Instagram account.
In what proved to be a far departure from the couple's usual upload schedule, Paul took to Twitter to issue a surprising announcement–after 509 consecutive days of churning out vlogs, his YouTube channel would remain dormant until further notice. Lending her support to her on-screen better-half's latest stunt, Costell backed up Paul's sentiment by announcing her temporary departure from the video-sharing platform as well.
"Taking some time to do my part and be part of the solution. Humbled by the voices that refuse to be silenced," tweeted Paul. Alongside the vlogger's cryptic caption was a video aimed at further explaining the reason behind the sudden lapse in content creation.
"I am taking some time to go and help some people that are in a lot of need, and it requires my full attention and I have to be 100 percent focused on it and I'm not going to be able to vlog over the next couple of days," he said. "That doesn't mean the vlog is ending, I'm going to be back very soon. But this is something that's super important to me and i need to focus on helping."
Taking some time to do my part and be part of the solution. Humbled by the voices that refuse to be silenced.https://t.co/5eXKuLH1rE

— Jake Paul (@jakepaul) February 26, 2018
"Respectfully taking a step back to support those who need to be heard the most. Focusing on being of service, being helpful, and just listening for a while," wrote Costell in a tweet that mirrored Paul's initial announcement.
Taking another page out of Paul's playbook, the leader of the #Costellers fan army then extrapolated on her upcoming self-imposed hiatus.
"There is a situation right now that needs my full 100 percent present attention and I have the opportunity to really make an impact and really help people who are in need right now," she said. "9.9 times out of 10 I would vlog the experience, but I truly believe that this is one of those things that should be done privately and something I should be giving my full attention to and not worrying about the camera."
Respectfully taking a step back to support those who need to be heard the most. Focusing on being of service, being helpful, and just listening for a while❤️ https://t.co/32ANq4OFuN

— Erika Costell (@erikacostell) February 26, 2018
To all #Jerika fans mourning the loss of their daily entertainment–don't worry, both viral celebrities promised they would return to their digital empires "very soon."