Armed with the bravado of a veteran rapper, self-proclaimed "Puerto Rican Princess" Joseline Hernandez hyped herself up enough to tease the new visual for her "Hate Me Now" Cardi B diss track. Despite their similar stripper-turned-reality star-turned aspiring rapper come ups, Hernandez proved she had it out for her fellow "Love & Hip-Hop" alum since she released the song in late 2017.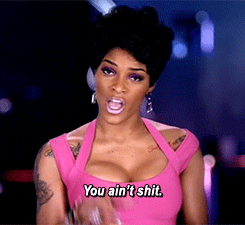 With lines like "Drag a Bronx bitch/Yeah, I said it/What y'all gon' do/Fabricated, illustrated cartoon-ass bitch/Bloody my ass/Who the f— cosigned this hoe?" it became clear from the jump that Hernandez wasn't shy about calling out her Grammy-nominated nemesis. True to form, Cardi B seemed to be completely unfazed by the hard-hitting bars.
https://twitter.com/iamcardib/status/931214360206340096?ref_src=twsrc%5Etfw&ref_url=http%3A%2F%2Fhollywoodlife.com%2F2017%2F11%2F16%2Fjoseline-hernandez-disses-cardi-b-hate-me-now-song%2F
Looking to stir up hype around the track's soon-to-be-dropped visuals, Hernandez then took to Twitter to tease fans with a short clip.
#hatemenow pic.twitter.com/EGmbLOdR7I

— Joseline Hernandez (@MsJoseline) January 31, 2018
In response, the #BardiGang flooded social media with their support of the "Bodak Yellow" chart-topper while simultaneously dragging Hernandez.
"That was a travesty," wrote one Cardi B supporter. "Stop hating on C.B your time is up. Keep showing body that's what you do best."
That was a travesty. Stop hating on C.B your time is up. Keep showing body that's what you do best.

— john michael. (@smakdwn65) February 1, 2018
Joseline Hernandez really tried to diss Cardi B?😂😂😂😂😂😂 she really played herself.

— Sweet fire🌹 (@GomolemoDibeco) February 1, 2018
Cardi B went from the strip club to the Grammys, whether you like her music or not there's something you can't deny:

Joseline Hernandez is in a corner shook right now. pic.twitter.com/mfvy3xlgqh

— Snow Black Cindy (@Ebony_QT) January 29, 2018
Clapping back at the wave of hate, Hernandez took to social media once more to defend her foray into the rap game. "The greatest thing about being an artist is that your vision is unlike other… so you will get there and stay there like hot glue," wrote the reality star.
The greatest thing about being an artist is that your vision is unlike other… so you will get there and stay there like hot glue 😍😍😍😍

— Joseline Hernandez (@MsJoseline) January 31, 2018
Misunderstood or not, Hernandez must not have been paying attention when Cardi B warned that if a girl has beef with her, she's gonna have beef with her…"foreva."