Justin Bieber really needs to stay in his lane. Between growing out his crustache in an attempt to show the world he's a grown-ass man and dropping his first rap track "Bankroll" a year ago, it's obvious that the Biebs wants to branch out from the pop world.
So not trying to dis Justin Bieber, but he tries to act and dresses like a rapper, but sings like a boy bad. 🤔🙊

— κtomes (@kirs10_tomes) March 27, 2016
Must I remind the #Beliebers that their idol's first hit was "One Time," a falsetto bubblegum tune that featured the then-15-year-old playing video games while awkwardly dancing around Silly String at a typical high school party?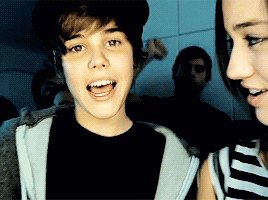 Now all grown up and (mistakenly) assuming that he's in ANY sort of position to comment on the rankings of the hip-hop elite, Bieber hopped onto Instagram to shine some light on exactly who he thinks is the GOAT. Taking a break from his coast-to-coast PDA-packed love fest with Hailey Baldwin, Bieber let the world know that he's on #TeamDrizzy for life.
Justin Bieber called Drake the best rapper of all time
"Everyone cop the best rapper of all times new album tonight at midnight @champagnepapi," he wrote.
Despite the fact that I can definitely get down to any one of Drake's chart-topping hits like "Nice for What" and "God's Plan," I would never call the Young Money-signed rapper the "best rapper of all time." Toeing the line between R&B, rhythmic pop, and hip-hop, Drake is leagues away from the other two-thirds of the YMCM trifecta, longtime collaborators Lil Wayne and Nicki Minaj.
Thankfully, stan Twitter quickly jumped on Bieber's social media post because they also couldn't stand to let the resident bad boy of pop get away with making such an egregious claim.
Why did I just see @justinbieber force it by saying drake was the best rapper of all time?? Obviously he's not.

— Cap'n Khaki (@timmyenglish8) June 28, 2018
Not only does the "Sorry" singer have no clue what he's talking about, but he's clearly not as much of a Drake stan as he says he is. In Drizzy's 2015 Meek Mill diss track "Back to Back," the rapper himself even admits that he's not a bar-spitter, making his instant-hit slam of Mill's abilities even sweeter.
I get lookin' out for your fellow Canadian brother, but come on, Bieber. There's a line between sending out free promo to your industry mates and straight trolling on social media … and the pop star certainly just crossed it.
drake the best rapper? @justinbieber must be high at the time 😂😂😂

— FanOfArt (@CN_1Long) June 29, 2018