It's no secret that Australian actress Katherine Langford has the acting chops worthy of both a Golden Globe nomination and the praise of her industry.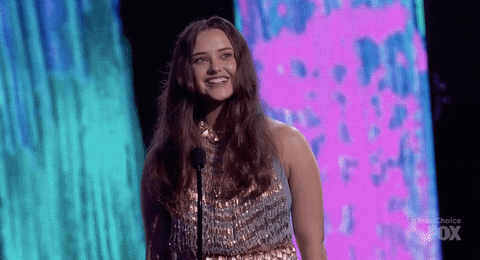 As the breakout star of Netflix's gritty teen drama "13 Reasons Why," Langford quickly parlayed her small-screen success into a big-screen debut with the critically celebrated romantic comedy "Love, Simon." Despite her certified status as a formidable force within the ranks of Hollywood's up-and-coming actresses, Langford recently revealed that she's planning on taking a break from honing her craft to pursue a career in music.
"In the next few months for me I'm taking just a second to hone my skills and to write some music because fundamentally that's where I come from. I want to take risks and challenges, and wait for a piece that inspires me like these two have," said Langford during a sit-down with W Magazine, reflecting on her roles in both "13 Reasons Why" and "Love, Simon."
Langford's most recent interview isn't the first time she's mentioned her passion for making music — the 21-year-old actress admitted that her love for iconic pop star Lady Gaga inspired her to learn the piano.
"I went to see 'Born This Way,'" the Aussie actress revealed. "I don't know what happened. It was like a spiritual experience, and I was so moved by her performance that I went home and that week I taught myself how to play piano."
Katherine ❤️ https://t.co/2YREyAKmA8

— Lady Gaga (@ladygaga) April 13, 2017
"I am a massive Little Monster. She's my queen," Langford added. "Christian Navarro, who plays Tony on '13 Reasons Why,' had a karaoke birthday party and I did 'Born This Way.' I was so into it that halfway through, I stood up on the table. The song immediately cut off, and I was told to get down! I love a good rock-out."
Before landing her breakout Netflix gig, Langford uploaded several videos of herself to YouTube singing original songs she had composed. Listen to her hauntingly beautiful track "3 Words" below and drop a comment if you think the breakout actress of 2017 has what it takes to make it in the music industry!