OK stan Twitter, stop trying to make #KenWar happen. It's not going to happen!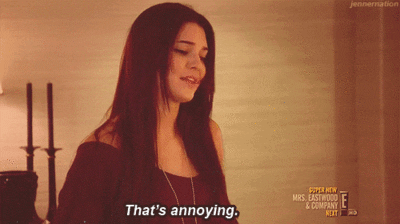 As the most fame-shy KarJenner sibling, it's no surprise that the internet exploded after pictures of the two models sucking face at a CFDA Awards after-party in NYC surfaced. With her love life constantly on lockdown from the prying eyes of overzealous stans and eager paparazzi, it's a miracle that there's actual footage of Jenner hooking up with ANYONE, let alone one-third of the gilded Hadid trio.
kendall and anwar???? pic.twitter.com/7GogD5QQNe

— paula (@skriverdisney) June 5, 2018
Unfortunately for #KenWar shippers salivating at the thought of their babies boasting the best features from two impossibly perfect gene pools, Hadid and Jenner are both much more interested in hooking up than they are in settling down.
Anwar Hadid was spotted making out with kendall jenner if they become a thing and she gets pregnant she will give birth to a Kardashian/Jenner/Hadid hybrid and its over for all of us bitches pic.twitter.com/fCD7SAf4G1

— l (@ahmadjawadd) June 6, 2018
Kendall Jenner and Anwar Hadid are not dating
"Anwar and Kendall are just having fun for now. Both of them recently got out of relationships, and don't want anything too serious," said a source close to Jenner, noting Hadid's recent split from actress Nicola Peltz.
"Kendall would never want to do anything to put her relationship with Anwar's sisters in jeopardy," the source added. "Kendall and Anwar have known each other for years and have always been flirtatious and this is just another sign of that. The two enjoy one another's company and things could change, but for now, it's nothing serious."
Honestly, I can't believe how heartbroken stan Twitter is over the fact that two of the most gorgeous people on the planet aren't rushing to walk down the aisle. Hadid is only 18 years old and fresh out of a long relationship with a fellow member of the Hollywood elite, so it should surprise absolutely NO ONE that he's just looking to have some fun at the moment.
And as for the slut-shaming Jenner is facing for also casually dating Ben Simmons? Cut it out, and leave her alone because she's clearly out here living her best life while having NO trouble bagging any man she wants.