Reality superstar Khloe Kardashian finally revealed her due date on Twitter just one week after officially confirming that she and boyfriend Tristan Thompson were expecting their first child together.
Headline-making pregnancy rumors have swirled around the couple as far back as September 2017, fueled by the millions of social media sleuths dissecting each post in search of confirmation. (Tbh, Kardashian couldn't even step out in some sunglasses without getting grilled for what was allegedly visible in their reflection.) Despite the constant pressure by the media and fans alike for answers, KoKo and Thompson have kept the pregnancy as private as possible until recently announcing the happy news on Instagram.
"My greatest dream realized! We are having a baby! I had been waiting and wondering but God had a plan all along," wrote the 33-year-old reality star. "I know we've been keeping this quiet but we wanted to enjoy this between our family and close friends as long as we could privately. To enjoy our first precious moments just us ❤️."
"Thank you all for understanding," continued Kardashian, in reference to her lengthy silence. "I am so thankful, excited, nervous, eager, overjoyed and scared all in one! But it's the best bundle of feelings I've ever felt in my life! ❤️❤️❤️"
Finally able to flaunt her changing figure, Kardashian posted a Christmas pic on Instagram that showcased her bedazzled #BabyBump.
https://www.instagram.com/p/BdI9DX3FBAU/?hl=en&taken-by=khloekardashian
The Good American co-founder then decided to gift her millions of Twitter followers with another much-anticipated tidbit of pregnancy information– her due date. When a fan respectfully inquired about the state of her pregnancy, Kardashian revealed the shocking news that she was nearly in her third trimester!
I'll be 6 months next week 🤰🏼 https://t.co/8F6dvoJqLM

— Khloé (@khloekardashian) December 25, 2017
Comments likening KoKo's tiny baby bump to a holiday "food baby" started rolling in, with many fans crediting her healthy and active lifestyle as the reason for her still-small figure.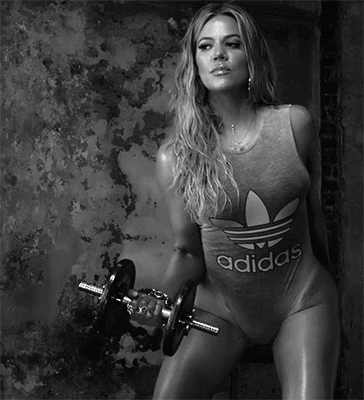 With KoKo nearly hitting the six month mark in her pregnancy, that means we can expect that next baby Kardashian around April 2018 (unless Kylie Jenner beats her older sister to the delivery room).
Drop a comment below if you think Khloe Kardashian is already rocking that third trimester glow.