Few Hollywood duos have both the staying power and status of #KimYe. Successfully weathering relationship-ending storms such as mental breakdowns, divorce rumors, and "Get Out" meme assaults about living in the sunken place, Kim Kardashian and Kanye West have proven that they have what it takes to survive the long haul.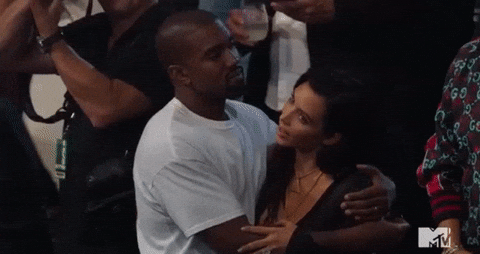 Four years and three kids after #KimYe became a lawfully wedded couple in a super-exclusive, star-studded Italian ceremony, the KKW Body CEO took to Instagram to mark the special day.
Kim Kardashian and Kanye West celebrate their fourth anniversary
"4 years down and forever to go…. Thank you babe for giving me our family and caring so much about us," wrote Kardashian in a post dedicated to singing her husband's praises. "Thank you for inspiring me on a daily, I'm so lucky. I can't wait for forever… Happy Anniversary."
While there's no denying that other celeb couples have more years under their belts than #KimYe, there is NO other famous pairing that attracts the same amount of tabloid attention. From Kardashian's reality show and sprawling influence in the beauty/fashion consumer market to West's unique ability to send the press into a tailspin with one simple tweet, the two icons are undeniably pillars of pop culture in human form. By merging genuine, self-started hip-hop talent with the most famous example of the new brand of celebrity inspiring up-and-comers like India Love, #KimYe is undoubtedly the world's strongest power couple.
Unlike Beyonce and Jay-Z, who enjoy their power couple status seemingly above reproach, Kardashian and West put their struggles and imperfections on full blast. I mean, seriously … other than Yeezy, who actually admits to getting liposuction on Twitter?
— KANYE WEST (@kanyewest) May 1, 2018
Standing by each other's side through robberies, assaults, mental breakdowns, and intense public criticism, #KimYe is the only celebrity couple in Hollywood that keeps it real, 100 percent of the time.