Kim Kardashian is seriously feeling herself these days, and she doesn't give AF who knows about it.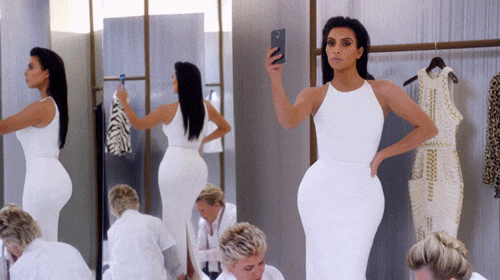 It's no secret that the reality star adores being the center of attention.
And when she gets unabashedly praised, the 37-year-old mother of three isn't afraid to hop onto Snapchat and show the world that she's not the only one who thinks she's fine AF.
Kim kardashian filming her friends calling her skinny on her Snapchat story is a big mood

— pay10 (@paytonfalash) July 30, 2018
Kim Kardashian is skinny and loving it
Unable to hide the smile in her voice, Kardashian released an epic string of Snapchats to her story while documenting her sisters' adoration of her newly snatched waistline.
"You look SO skinny," said the KKW Beauty CEO's sister Kendall Jenner.
To which Kardashian replied, "WHAT?! Oh my god, thank you!"
Continuing the praise, Khloe Kardashian then heaped on her own approval of her sister's rockin' body. "I've never seen a human being look so good. You are a walking FaceTune," said the "Revenge Body" star.
Kim Kardashian filming and posting a solid 6+ stories about how skinny she looks is a mood. Lmao. I'm not even mad. She legit looks like she doesn't eat but still has that ass she paid good money for. Good job Kim. I'm impressed.

— ☎️Beckyw/theGoodHair (@pinkis4gangstas) July 30, 2018
Unsurprisingly, haters soon jumped down Kardashian's throat for sending a "harmful message" to her fans that allegedly exists as a broad promotion for disordered eating. However, those quick to slam the "Keeping Up with the Kardashians" star seem to think that the reality star's snaps actually centered around her pushing her millions of followers to follow in her footsteps, which couldn't be further from the truth.
Haven't any of these critics ever felt so good about themselves that they just HAD to snap their fire outfit and fully beat face to their Instagram/Snapchat story? Obviously, Kim Kardashian's recent uploads were little more than self-love aimed at showing off her many hours spent in the gym working on her envious physique. Striving for (and eventually achieving) a bomb-ass body is nothing to be ashamed of, and just because Kardashian looks a certain way does NOT mean that all her followers need to follow suit.
To all of KKW's haters: Take control of your own fitness journey. Borrow a page out of Kim Kardashian's book and start loving the way you look.