I get it, the KarJenners are easy targets.
For the media and haters alike, the first family of reality television exists as constant, walking examples of the shallow, narcissistic depths of celebrity culture. With their beauty lines and pay-to-play apps full of diet and makeup tips, the KarJenner siblings have created a multimillion-dollar empire on both looking fierce and hitting the right angles 24/7. However, while some are quick to throw the fame-friendly siblings under the bus for doing the most to stay in the public eye, I, along with countless other dedicated fans, reserve nothing but reverence for the sovereignty of the Kardashian nation.
i'll die defending the karjenner empire

— zeta lover (@daudvo) March 3, 2018
Constantly defending themselves against the onslaught of public criticism, the Kardashian clan undoubtedly appreciates loyalty above all else. Say what you will about Kim Kardashian West as a public figure, but there's no way in hell ANYONE can come for the queen of reality television's status as a ride-or-die wife and standalone success.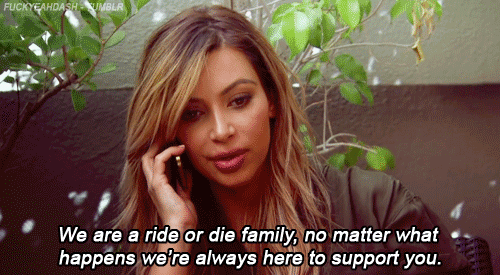 Kim Kardashian is not with Kanye West for his money
Just because she can snag any man she wants with her impossible curves and famous back end, Kardashian West does NOT need a man to support her high-end lifestyle. Rightfully fed up with the critics who consistently label her as a gold-digging, fame-hungry socialite, KKW hopped onto Twitter to set the record straight about who brings home the bacon to her Calabasas palace.
When a fan commented on the reality star's decision to hold her man down after West went off on a now-infamous TMZ rant, Kardashian West backed up the sentiment with a well-placed "Okkkkkurrrrr



."
Okkkkkurrrrr 💸💸💸 https://t.co/TAZrkvF2iY

— Kim Kardashian West (@KimKardashian) June 27, 2018
Did everyone forget about the "Famous" rapper claiming he was $53 million in debt and asking Mark Zuckerberg to fund his creative pursuits?
If you're coming for Kardashian West with the claim that she bled her husband's bank account dry, think again. In addition to working tirelessly to repair her man's image, SHE paid off HIS debt, not the other way around. If anything, West is the gold digger.
Lmao and Kim was single when she did her sextape. Not to mention she turned that into a business for herself and paid off her husband's $56mill debt. Shiiiiit more women should be like Kim. She more loyal than most given what Kanye been doing

— Alaskan Thunderfuck (@StreamMeWaffles) June 24, 2018