Hate her or love her, there's no denying that Kim Kardashian knows how to secure the bag. Using her natural good looks and mild notoriety as a celebrity party accessory to springboard herself into the Reality TV Star Hall of Fame, it quickly became clear that she wasn't stopping until she reached the top.
Crafting a cosmetics empire with her own KKW Beauty Line and capitalizing on the brilliance of micro-purchases with her numerous apps, the most famous Kardashian has proved time and again that she is the ULTIMATE business bitch.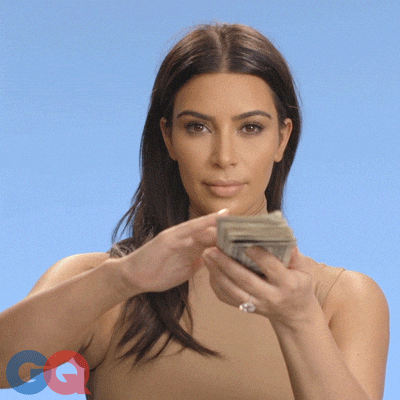 Now, simply because the Twitterverse revolves on an axis of constantly needing someone to hate on, the 37-year-old beauty mogul is catching heat for using her personal brand to promote a product.
Kim Kardashian posted an Instagram ad for an appetite-suppressing lollipop
In a now-deleted Instagram post, Kim Kardashian shared the wonder that is appetite-suppressing sweets with her 111 million Instagram followers.
Kim Kardashian deleted the appetite suppressing lollipop image from her Instagram but left it on her stories… pic.twitter.com/wMEae50haJ

— Mel Burt (@raisethewaves) May 16, 2018
Within minutes, the comments section was flooded with criticism from haters who believed that Kim K's promotion of what is essentially a diet pill in candy form was a perverse money grab.
I still don't get why @KimKardashian is advertising shits on Instagram (let alone a meal suppressant lollipop). Doesn't she have all the money in the world already?

This is coming for someone who's been defending her for all her fuck-ups but this is intolerable don't you think.

— talitha (@octobresix) May 16, 2018
In addition to attacking her decision to share a sponsored post in the first place, critics slammed the beauty queen for an "incredibly damaging and dangerous" nod to disordered eating.
This is actually disgusting. It's 2018 and celebrities are using their platform to get rich off of promoting toxic eating behaviours. Imagine telling your child to eat an appetite suppressant lollipop when they say they're hungry. Do better @KimKardashian! 🚮🚮🚮 https://t.co/NBSzDcrt80

— Laca's TrapMama (@Amnaa_HA) May 16, 2018
However, the Twitter trolls coming for Kim K need to take a step back and fact-check before they accuse the "Keeping Up with the Kardashians" star of encouraging her followers to starve themselves. The website of the company in question explicitly states that the goal of the sweet treat is to help stave off cravings until mealtime. TBH, as someone who struggles with comfort eating at even the slightest whiff of anxiety or stress, these lollipops seem like an absolute stroke of brilliance, not a desperate ploy to force teenagers to develop eating disorders.
"Real women don't…"
Tell each other what to do?
"Well little girls…"
Should not dieting or looking to a 37 year old mother of 3 for advice.
If @KimKardashian wants to suck on a lollipop, let her.
Y'all get mad if she breathes. Yikes.#KimKardashian #letherlive

— Anne Kamakizi (@KamakiziDeVor) May 16, 2018
Kim Kardashian built her entire CAREER out of embracing her curves and shrugging off stick-thin catwalk expectations that exist in the beauty world. If she uses diet lollipops to keep her absolutely bangin' figure and wants to share her secret with the rest of the world, more power to her.