Kylie Jenner should really know by now that she can't make everyone happy. Sadly, the 20-year-old is often the target of critics eager to slam every aspect of the young mogul's personal life and image.
Kylie Jenner's young dumb ass don't need no f'ing child. She need a brain. Kids are a lot of work. What can she even teach a child. The media wants her to be a mom so bad. Just stop it!

— Bossy Tionna Smalls (@TionnaSmalls) January 13, 2018
What was originally an intimate sneak peek via Snapchat into Jenner and baby Stormi's cute AF playtime quickly became a feeding ground for haters eager to mommy-shame the cosmetics mogul.
Parents shouldn't be piercing their kids ears until the child is old enough to say they actually want them done. Ear rings are not a REQUIREMENT. Stop decorating your babies without thier consent. Thier bodies.Their Choice. Especially when it comes to bedazzling them. pic.twitter.com/OEaM8RxzPu

— Ching Ching (@ChynnaTown11) July 12, 2018
Kylie Jenner got Stormi Webster's ears pierced
For everyone demanding Jenner's head on a stick for piercing her 5-month-old baby's ears, back off. You KNOW sis paid serious cash to make sure Stormi was as comfortable as possible during the piercing and that the whole procedure took only seconds to complete.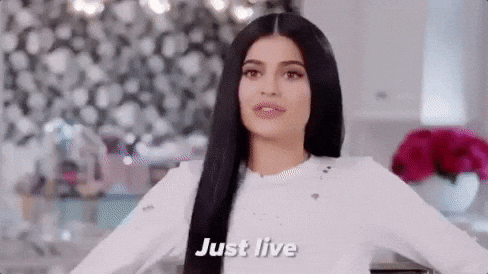 According to the American Academy of Pediatrics, "there is little risk, no matter the age of the child" when it comes to pierced ears on newborns and toddlers alike.
In addition to posing virtually NO risk to Stormi, Jenner is far from alone in choosing to bling her baby out at only 5 months old.
So here's what I have to say about stormi eats being percied there nothing to be upset about. Like most parents who are not famous get there kids ears done at like a couple days old. @KylieJenner is not a bad parent plz stop making her sound like one. pic.twitter.com/SsCeHWZ11t

— Destany Hughes (@destany_hughes) July 13, 2018
Aside from spending time with her only child, Jenner has also been extremely vocal about just how seriously she takes her newest, most demanding role. "I'm learning so much more about myself and life, and it's been such a great experience. I think about [Stormi] all the time, anywhere I am. I would rather be with her or wish she can come everywhere," said Jenner, dishing to sister Kim Kardashian about the blessing of motherhood for their Evening Standard cover story.
Go ahead and hate on the Kylie Cosmetics mogul all you want, but whatever you say, know that she's comfortable AF in her Calabasas mansion counting her millions while you're mouth-breathing over a keyboard. Well on her way to becoming a billionaire, there's nothing you can say that will knock the crown off Jenner's perfectly styled head.
Armed with the very best care and possessions that money can buy, there's no doubt that Stormi is living the good life, courtesy of her famous mother.