It definitely looks like Jesy Nelson was taking notes during Kim Kardashian's Bo Derek-styled Instagram photo shoot that sent the Internet ablaze.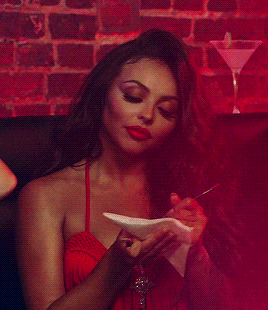 One-fourth of the British girl group formed during the 2011 series of "The X Factor," Nelson is known throughout the Little Mix fandom as the member most likely to serve up sultry snaps and sexy social media selfies. Lauded for her quirky sense of humor, tell-it-like-it-is personality and a relatable awkwardness that shines through in videos and public appearances,(Jamaican accent, anyone?) Nelson is now facing a wave of backlash over her most recent upload to the 'Gram.
"Shootin,'" wrote the "Black Magic" singer, clearly eager to show off her new, fiery dreadlocks.
https://www.instagram.com/p/BfZSYHqh7_i/?hl=en&taken-by=jesynelson
Soon after uploading the still from the photoshoot held at the Dorsett City hotel in London, Twitter exploded with criticism over Nelson's new 'do with many users arguing that the style was a clear act of cultural appropriation. Outraged by the singer's boldness, haters called for both an apology from the girl group and a swift removal of the offending image.
"last time i checked jesy nelson was white lol why has she got dreads," wrote one user, while another critic called for the singer to be "cancelled" for uploading the offensive photo.
last time i checked jesy nelson was white lol why has she got dreads

— rach Ⓥ (@stjngrayafflict) February 20, 2018
jesy nelson got dreads cancel her

— bethany (@sweetcreatureex) February 20, 2018
In retaliation, Nelson's supporters responded with equally-matched vitriol.
"Accusing Jesy Nelson of cultural appropriation for having dreadlocks is silly," wrote one Twitter user. "How about everyone wear their hair how they want and be done with it."
https://twitter.com/_ryancus/status/965933521964535808
Look at these sheep taking the piss with their dreadlocks! It's an outrage! It's cultural appropriation!! You're looking at being lamb chops if you don't learn to know yourselves! @LittleMix #jesyNelson pic.twitter.com/ovHbukc5W0

— Charlie Dango (@Charlie_Dango) February 20, 2018
To date, neither Nelson nor her bandmates have stepped forward to issue a statement regarding the controversial picture or to issue an apology.