Lighting up the screen as feuding siblings and on HBO's hit fantasy series "Game of Thrones," co-stars Maisie Williams and Sophie Turner clearly don't take their work home with them. Not afraid to showcase their sibling-like love on social media, the two IRL BFFS have even sparked the creation of their own hashtag, #Mophie. In a recent interview with Radio Times, Williams confirmed that she will be a bridesmaid in Turner's upcoming wedding with DNCE frontman Joe Jonas.
When asked directly if she was "bidding" for a spot in Turner's bridal party, Williams couldn't help but scoff at the assumption that she wouldn't be included.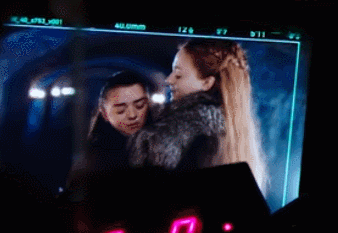 "Oh, I've already got it! It's very, very exciting," she said. It's kind of bizarre, though."
You better believe Maisie Williams will be a bridesmaid in Sophie Turner's wedding

📹: @RadioTimes pic.twitter.com/yOqPur24Fk

— UPROXX (@UPROXX) January 22, 2018
When pressed about the status of Turner's wedding plans, Williams revealed that not much has been accomplished to date. "We're waiting 'til this season's done until we get into it," she added. "But I think she's already letting her little heart wander and imagine."
Earlier in the year, Turner spoke to Insider about the extent of their bond and what it's like to share the set with her best friend.
"Well I haven't worked with her since season one, but we all shoot in Belfast," said Turner while on the red carpet at the series' latest premiere. "So we have sleepovers whenever we're in Belfast at the same time. She's my best friend, she's my soul mate. I love that girl to pieces."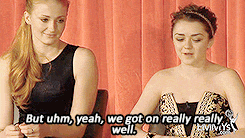 With Turner successfully recruiting her platonic better half for her bridal party, all that's left is for Joe Jonas to decide whether or not he's going to pull a "Kevin" and have all the JoBros stand in as his best man.