Before the Jonas Brothers' solo careers gifted the world with certified bops like "Jealous" and "Cake By The Ocean," siblings Kevin, Joe and Nick Jonas performed together as one, glorious rock band. From 2005 to 2013, the brothers released four full-length studio albums, starred in two Disney Channel movies and landed their own television Disney Channel series all while cultivating an impressive and hyper-dedicated fanbase.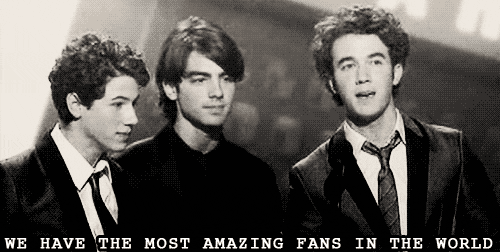 In a move that ignited stan Twitter, the band's official Instagram account was reactivated over the weekend for the first time following their October 2013 split.
Further fanning the flames of fans who still hold a candle for their favorite band, the eldest JoBro posted a picture of himself alongside brothers Nick and Joe with no caption to explain the meet-up.
Unsurprisingly, diehard followers who still still turn up to hits like "S.O.S" and "Burnin' Up" happily expected a reunion announcement–until Nick Jonas cleared the air while chatting with Ryan Seacrest during the Grammys pre-show.
Nick Jonas Clears Up Jonas Brothers Reunion Rumors https://t.co/esYkuG3oSV pic.twitter.com/ZKDVDfYzpl

— Nick Jonas News (@JickNonasNews) January 29, 2018
"We hung out for a weekend all together, then I guess our Instagram was restarted or reopened," he said, explaining the social media mixup. "But I can tell you, right now, there's no reunion planned." With their dreams of a 2018 JoBros tour crushed, fans took to Twitter to express their disappointment.
Nick Jonas said on the red carpet that there's no Jonas Brothers reunion, so I'm boycotting the Grammys because I don't care about music anymore

— Paige Williams (@paigebackstage) January 29, 2018
nick jonas just confirmed there's no jonas brothers reunion planned my life's ruined

— alex (@xoxoaIex) January 28, 2018
nick jonas just said there's no jonas brothers reunion happening my dreams have been cRUSHED pic.twitter.com/ewRztSnsQT

— steph • 87 (@radiantstyIes) January 28, 2018
Serving up a glimmer of hope to fans hanging on his every word, the youngest Jonas brother then quickly amended his reply. "But I can never say never," he continued. "You never know what's going to happen."