Thank the hip-hop gods. Nicki Minaj is finally back on her game after releasing the tired, uninspired track "Rich Sex." On the heels of the incredibly original "Chun-Li" and the on-the-nose response to her three-month social media hiatus from late 2017 into early 2018, "Barbie Tingz," Minaj's newly dropped single from her upcoming album "Queen" is thankfully straight fire.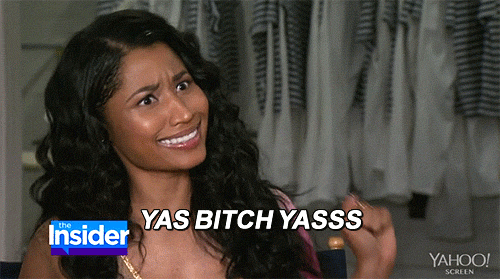 By linking up with longtime collaborator and BFF Ariana Grande on the track, Minaj elevated her sharp bars with the help of the "No Tears Left to Cry" singer's smooth vocals and on-point runs.
Nicki Minaj and Ariana Grande's new song "Bed" is fire
As a longtime member of #TheKingdom, I'm happy to see that Minaj is finally back in her sweet spot after taking a four-year break from releasing full-length studio albums. Unlike with "Rich Sex," the Queens-bred femcee went hard on a polished, laid-back beat instead of letting the hook overshadow the bars in her verses.
GET TF OUTTA BED!! WE NEED TO TALK ABOUT HOW AMAZING BED IS @ArianaGrande @NICKIMINAJ pic.twitter.com/NshY12bKxb

— zak (@godisfenty) June 14, 2018
"I'm tryna clap them like somebody told 'em gimme five/I'ma be a half an hour but I told 'em gimme five/I'm tryna dance on 'em, blow my advance on 'em/I like 'em better when he got some sweatpants on 'em," raps Minaj on the track that will undoubtedly snag the No. 1 spot on the charts in no time.
I'm also LIVING for the fact that Minaj proved her loyalty to someone outside of Lil Wayne/her Young Money crew by standing by her decision to put Grande on the track instead of switching it up with someone new.
"I said you need some thick skin, baby, suck it up/He go insane on it, I put my fame on it/Coulda put Zayn on it, but I put your name on it," spits the rapper, siding with Grande over the former One Direction crooner.
From bops like "Get on Your Knees" to "Bed," Grande and Minaj have proven time and again that they know how to deliver sexy club anthems.