Don't lose your cool, members of #TheKingdom. When Nicki Minaj told fans they'd have to choose between a new album and a baby, she meant it.
Y'all want the album or the baby? Cuz ch- y'all ain't bout to get both https://t.co/Bz5BJxGeX7

— Chun-Li (@NICKIMINAJ) November 26, 2017
Focused on dropping her soon-to-be-released album, #Queen, it's clear that Minaj is not interested in linking up with another hip-hop icon after splitting with Nas in early 2018. True to form, the "Barbie Tingz" rapper capitalized on a brilliant PR opportunity while sending both her fandom and Slim Shady's stan army into a tailspin.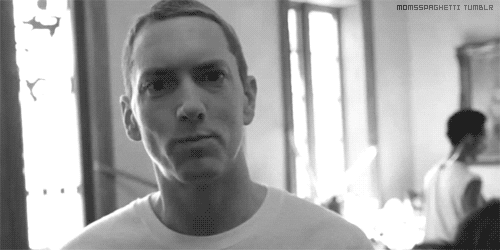 Because most people are gullible and eager to believe anything they read on the internet, Twitter soon erupted with fans commenting on her supposed relationship with Eminem.
Apparently Eminem and Nicki Minaj are dating. I've expected this to happen for years. pic.twitter.com/HZ8JKPeVZc

— Angel ‍ (@Angel72_88) May 25, 2018
Nicki Minaj is not dating Eminem
This headline-making mess all started when Minaj hopped onto Instagram to lip-sync along to her verse on YG's new single "Big Bank," which boasts the lyrics "Back to back Maybach, stack the M's / Told 'em I met Slim Shady, bag the Em / Once he go black, he'll be back again." Believing that the "Chun-Li" hitmaker was admitting to hooking up with Eminem, a fan hopped into the comments section to ask Minaj if she was in fact dating the Detroit rapper.
Surprisingly, Minaj actually responded "Yes" to the probing question. Inciting even more speculation, Eminem then slipped into the comments section himself to add "Girl you know it's true."
Nicki Minaj confirms rumors
About her and Eminem dating.
Is this a publicity stunt or do y'all
Think this is for real?… pic.twitter.com/BiOuhXD7Uw

— DΛLLΛS LOCΛLS (@DallasLocals) May 25, 2018
Both known for their quick wits and unique brands of humor, it was clear at first glance that Minaj and Slim Shady were simply trolling their fans dim enough to hop onto the latest hype train pulling out of the hashtag factory. As much as I love fantasizing about the straight fire collabs that could come out of their romance, I know Minaj's "Big Bank" verse was nothing more than shock rap at its finest.
If you actually believed that the "Roman's Revenge" collaborators were hooking up behind the scenes, congratulations. You played yourself.